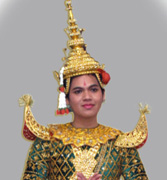 Beginning this Sunday, Sept. 26, Bryn Mawr College will host a series of events focusing on the classical arts of Cambodia. Inspired by a visit from Cambodia's Khmer Arts Ensemble scheduled for October, the series will include performances, lectures, and workshops conducted by members of the local Cambodian community of Philadelphia as well as the visitors from Cambodia.
All events in the Cambodian Arts Series are free to Bryn Mawr, Haverford, and Swarthmore students, faculty and staff. The Oct.22 performance by the Khmer Arts Ensemble is part of the College's
Performing Arts Series
; tickets for the general public are available online at
Brown Paper Tickets
. All other events are free to the general public, although reservations are required for some events. For more information, see the
Performing Arts Series website
.
The series opens Sunday at 7 p.m. in Goodhart Hall's Katharine Hepburn Teaching Theater with "A Thousand Years in the Making: Cambodian Royal Court Traditional Dances," a performance by Philadelphia-based Chamroeun Yin. Yin is a multitalented artist whose work in the visual arts includes preparing traditional costumes and masks for the dances he performs.
On Tuesday, Sept. 28, at 6:30 p.m. in Goodhart Music Hall, Yin will display and discuss some of the splendid and elegant costumes and masks he has created for Cambodian dance performances.
Other Events in the Series:
Monday, Oct. 4, 4:15 p.m. , Carpenter B21. Screening of Dancing through Death: The Monkey, Magic, and Madness of Cambodia, a documentary focusing on Thavro Phim, a classical Cambodian dancer who survived the genocide of the Pol Pot Regime. Phim, who will be on hand to discuss the film, continues to use dance with both youth and immigrant communities as a way of recovering and maintaining cultural identity. Co-sponsored by the Solomon Asch Center for the Study of Ethnopolitical Conflict.
Monday, Oct. 18, 7 p.m., Pembroke Dance Studio. "The Cambodian Monkey Dance: Trickster, Warrior, and King," a workshop with Thavro Pim. Open to dancers, as well as to those with experience in other movement forms ranging from tai chi and capoeira to theatrical improvisation. Pim is one of only three trained dancers in the US who performs and teaches this important dance. Call the Office for the Arts (610-526-5210) to reserve a space.
Wednesday, Thursday, and Saturday, Oct. 20-23, various locations. Master Classes in Classical Cambodian Technique with members of the Khmer Arts Ensemble. See the Dance Program Events website for information about times, places, and how to reserve a space.
Friday, Oct. 22, 8 p.m., McPherson Auditorium, Goodhart Hall. The Lives of Giants, a performance by the 30 dancers and musicians of Cambodia's Khmer Arts Ensemble. Drawing on the Cambodian Reamker (Ramayana), The Lives of Giants fuses classical and experimental dance techniques into a spare, complex, powerfully spiritual evening that delivers a resonant message about the effects of violence. Ticket information at the Performing Arts Series website.
Saturday, Oct. 23, 7 p.m., McPherson Auditorium, Goodhart Hall. Learning to Listen: explore the beauty and intricacies of Cambodian classical music as members of the Khmer Arts Ensemble both play and discuss both the instruments and the music. Call the Office for the Arts (610-526-5210) to make a reservation.
The Khmer Arts Ensemble residence and Cambodian Arts events are made possible, in part, by a grant from The Pew Center for Arts & Heritage through Dance Advance.
Comments Off

on Sunday Performance by Chamroeun Yin to Open Monthlong Series on Cambodian Classical Arts