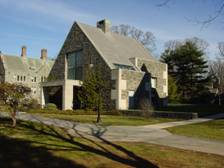 Eugenia Chase Guild Hall, which once served as home to the college's professional computing staff and a public computer lab, will become a student-centered space that brings together several advising and student-services offices under one roof.
While the roster of future tenants is still being finalized, confirmed new residents of Guild include Dean of the Undergraduate College Michele Rasmussen, the advising deans, the office of the registrar, and residential life.
"The move to Guild will open up exciting possibilities for partnerships and projects across different offices since several of us will now be in the same physical space," says Rasmussen. "It's also very important to house the advising deans and other critical student-support offices in a building that has an elevator and is accessible to everyone."
The plan is to have the space ready for its new use some time during the 2011-12 academic year, says Rasmussen.
While no major structural renovations are planned, there will be a need for more private offices as well as multipurpose space for meetings that can be used by both staff and students.
"We definitely want to preserve Guild's lounge and informal work space as much as possible," says Rasmussen. "Our goal is for Guild to be a welcoming and appealing place for students to visit, as much a destination as the Campus Center or Schwartz Gym."
In the fall of 2009, Information Services responded to the campus community's recommendation to provide an easier-to-navigate organization while maintaining services in a resource-constrained environment by moving the public computer lab and approximately half of the professional computing staff from Guild to Canaday Library. The decision to make Guild Hall the center of student advising by 2011-2012 affords Information Services the opportunity to further consolidate its staff under one roof, and to explore Canaday's potential as a hub for all of its services.
Comments Off

on Guild Hall to Become Student Advising and Support Center