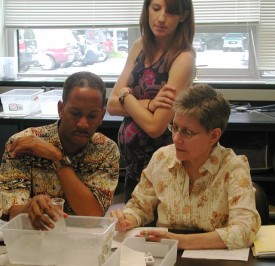 A diverse group of 12 Philadelphia-area educators recently spent three weeks investigating new approaches to learning at Bryn Mawr's "Brain, Science, and Inquiry-Based Education," a summer institute for K-12 teachers. Instructor in Biology Wilfred Franklin and Eleanor A. Bliss Professor of Biology Paul Grobstein hosted the program along with Jessica Watkins '13, Jenna Pfeiffer '12, and Kate Gould '11. Among the teachers was Ashley Dawkins '08, who participated as an undergraduate in a similar program several years ago and subsequently went on to get a master's degree in education.
Continuing a series of summer institutes begun in 1993 and supported by grants to Bryn Mawr College from the Howard Hughes Medical Institute, this year's program was the first to try a three-week format. It focused on "co-constructive inquiry," a pedagogical format in which participants reach new understandings both empirically and by sharing existing understandings.
Also contributing to this year's institute wer Ingrid Waldron, a professor of biology at the University of Pennsylvania; Alice Lesnick, director of the Bryn Mawr-Haverford Education Program; Rebecca Vandiver, HHMI postdoctoral fellow in mathematics and biology at Bryn Mawr; Greg Davis, assistant professor of biology at Bryn Mawr; and Paul Burgmayer, who teaches chemistry in a local high school.
After introducing participants to current understandings of the brain in relation to education, the institute provided hands-on activities and extensive opportunities for both discussion and presentation by all participants. Among the post-institute comments by K-12 participants:
"pushed me into thinking outside the box"
"I've developed a sense of necessity to take students from where they are to a new understanding for themselves,"
"I will use storytelling and an open-ended approach to teaching,"
"It has taught me how to better dialogue, to be a better facilitator,"
"I have a greater understanding of co-constructive conversations and their value to learning.  This is a new pathway in my brain, as well as a new pathway to reach my students."
A number of the K-12 participants who have participated in previous summer institutes were pleased by the new three-week format that integrates discussion of the brain and of inquiry-based education, which had previously occurred in separate institutes. Grobstein was particularly enthusiastic about the new format and this summer's program. "The K-12 participants were a wonderful group this year, and together we learned a lot not only about the brain but about ways of bringing out its strengths, in all students, in classroom contexts. I expect this summer to be significant not only for K-12 classrooms but for college classrooms at Bryn Mawr as well."
"Students are not the only one's learning—teachers too are constantly engaged in this process" said Jessica Watkins. Brie Stark, an undergraduate who participated in an institute last summer and followed this summer's institute, wrote in an online discussion, "What is the goal of education? I've been fed many answers to this through middle school, high school and college. Some answers revolved around 'bench marks' set by administration, some around 'learning all you can know' and some around 'exploring possibilities.' My favorite, of course, is exploring possibilities … I think this 'exploration' is overlooked in most educational settings."
This summer's institute program is extensively documented at and via links from http://serendip.brynmawr.edu/exchange/bsie10/home.  Materials include not only session and discussion notes but also forum discussion by participants as well as mini-projects by each and photographs. The website will also serve for continuing conversation during the academic year.
For more information about the summer program in general, see http://serendip.brynmawr.edu/local/suminst.
Comments Off

on K-12 Teachers Investigate Brain, Learning at Bryn Mawr