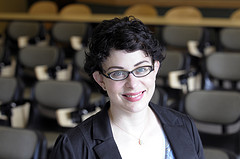 Assistant Professor of History Elly Truitt  recently received a Scholar's Award from the National Science Foundation to fund a year's time doing research for and writing her new book, tentatively titled Magical Mechanisms: Automata in the Medieval West.
"Automata—artificial objects that are, or appear to be, self-moving—were culturally significant in medieval Europe," says Truitt in describing her research subject. "They appear as diplomatic gifts from distant rulers to European courts; in stories and legends and chronicles of distant lands and times; as manifestations of esoteric and sometimes forbidden knowledge; in courtly settings of great luxury; attached to monumental clockworks; as examples of technological innovation, and in the service of the Church."
Truitt's research project examines the presence of automata in visual, textual, and material form in medieval Europe and, in the course of the examination, traces the interpenetration of scientific ideas, technological developments, philosophical theories, and cultural history.
Magical Mechanisms: Automata in the Medieval West, builds upon research Truitt began while earning her Ph.D. in the history of science at Harvard University.
The award will allow Truitt to hire at least one student research assistant and to travel to England, Scotland, France, and Italy to search manuscript collections for images and information about medieval automata. She's also planning a trip to Los Angeles to examine manuscripts at the Getty Research Institute.
In addition to researching and writing the book, Truitt will also be working on two articles, one that is related to her next research project, on medieval courts as important centers of scientific knowledge and practice, and one that is about the changing definitions of fiction and history in the 13th century.
The NSF's Science, Technology, and Society Program typically funds only 20 percent of the proposals it receives each year and an even smaller percentage of proposals from scholars in the humanities.
"The experiences I've had teaching Bryn Mawr undergraduates really helped me to prepare my grant proposal and will, I hope, help me write my book.  The skills I've learned while teaching—namely, how to create a coherent narrative for people unfamiliar with a topic and highlight what is important and why—are fundamental to my research and writing," Truitt said.
Comments Off

on Bryn Mawr Historian Wins NSF Grant for Study of Medieval Automata