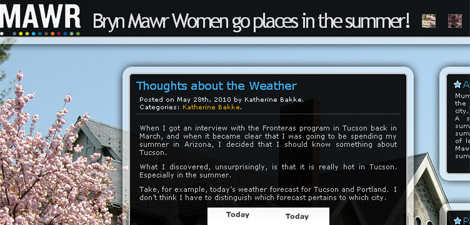 Mumbai, France, Oregon, the lab, the theater, the city, the country, the burbs. A summer of service, a summer of research, a summer of work, a summer of learning something new. Mawrters go places in the summer!
Now there is a forum for the musings of these intrepid adventurers: Bryn Mawr Women Go Places in the Summer, a blog focusing on the summer projects of several Bryn Mawr undergraduates. Among their projects:
Researching access to health care along the U.S.-Mexico border
Exploring the therapeutic use of classical Indian dance in Mumbai
Researching the structure of ice deposits on Mars
Interning in the office of a U.S. Senator on Capitol Hill
Helping start a small business that makes skin-care products with a rare kind of oil, fairly traded with women's cooperatives in Morocco
Researching the role of military intelligence in several major operations of World War II through primary source materials in Washington, D.C., London, and Normandy
Interning in maritime history at the National Museum of American History, along with research into the education of midshipmen in the U.S. Navy from 1794-1861
Follow their adventures at summerresearchandinternships.blogs.brynmawr.edu/.
Comments Off

on Bryn Mawr Women Go Places in the Summer … and Blog About It