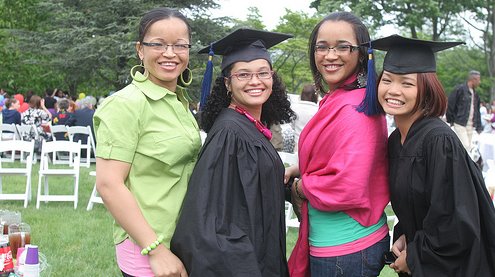 Bryn Mawr's class of 2010—320 undergraduate students from throughout the United States and the world—will be graduated at 2:00 p.m. on Sunday, May 16 on Merion Green. The College's Graduate School of Arts and Sciences will also be granting 18 Ph.D.s and 23 master's degrees. Bryn Mawr's Graduate School of Social Work and Social Research will award 85 degrees as well.
Nobel Peace Prize winner Jody Williams will give the Commencement Convocation address to Bryn Mawr College's graduating class on Saturday, May 15, at 2:00 p.m. on Merion Green.
For details and information about the weekend's events, go to the convocation and commencement homepage.
Among those graduating will be a number of academic award winners who have been featured in Bryn Mawr Now, including Deborah Ahenkorah, Simone Biow, Nicole Gervasio, and Mandy Shen.
A number of other graduating seniors have also shared their post-graduation plans.
Those going abroad to continue their studies include Teresa Silva, who is leaving Bryn Mawr to do field work in Cyprus and Northern Spain during the summer before going on to graduate study in archeology  at the University of Sheffield in the United Kingdom.
Silva is just one of many from the class of 2010 who will be making their home in the United Kingdom this fall.
Catherine Elise Niemeyer will be studying at Oxford for a year to complete a master's degree in visual anthropology. Hildi Greenberg is going to study in London at Sotheby's Institute of Art, where she'll be working toward a master's in fine and decorative art. She'll be joined in London by Celia Turner, who will start at City University in September on the track to a master's in publishing.
Other members of the class going overseas to study include Kate Lee, who will enter a master's program in international studies at the Johns Hopkins University-Nanjing University Center for Chinese and American Studies. Jillian Barndt and Nicolette Lee will both attend a ten-month language program for advanced studies in Japanese at the Inter-University Center for Japanese Studies in Yokohama, Japan. Abby Higgins will use a research fellowship she received from Bryn Mawr to spend the next year in Nairobi, Kenya, studying women's reproductive rights in low-income communities.
Those staying a bit closer to Bryn Mawr include Ariel Puleo and Mandy Shen, who will attend Harvard's Graduate School of Education, and Maggie Powers, who is headed to Washington D.C. to get her master's at American University's International Training and Education Program.
A number of this year's graduates have chosen to continue their studies in the Midwest.
Marisa Karyl Franz will attend graduate school at the University of Chicago, where she'll study religion philosophy. Beth Curtiss is going to the University of Wisconsin-Madison in the fall to pursue a master's of music in music education. Naomi Hamermesh will be attending the University of Michigan School of Natural Resources and Environment for a master's degree in environmental informatics. Danielle Marinucci will be attending Washington University in St. Louis' George Warren Brown School of Social Work to pursue a master's in social work.
California-bound students include Courtney Malpass, who is going to Mount St. Mary's College in Los Angeles to study history, and Karen Von Dollen, who is going to U.C. Davis Veterinary School.
Members of the class of 2010 enrolled in Ph.D. programs include Liz Bielinski, who will be studying chemistry at Yale, and Marybeth Matlack, who will be joining the Medieval Studies Program at Cornell.
Graduating students entering the workforce include Sarah Bechde, who is working at a community health center in the Bronx through AmeriCorps, and Amanda Bowes and Jane Morris, who will both be working as interns with the New York State Health Department AIDS Institute in New York City.  Liz Coleman will be managing the Anxiety, Depression and Emotions Lab at the University of Pennsylvania. Sophia Guida will be teaching English and serving as the interim director of communications at an English boarding school in Abaarso, Somalia. Eva J. Herzog will be teaching math at a private school in Houston, Texas.
Comments Off

on Class of 2010 to Celebrate Convocation and Commencement Weekend