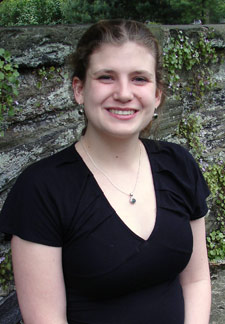 Chantal Taylor '12 of Weaverville, N.C., who majors in Russian and minors in computer science, has been selected for a highly competitive Boren Scholarship for International Study. Just 138 undergraduates were selected from more than 900 applicants for these awards.
Boren Scholarships provide up to $20,000 to U.S. undergraduate students to study abroad in areas of the world that are critical to U.S. interests and underrepresented in study abroad.
Taylor will use the award to fund a year's study at the International University in Moscow, in a program developed by the American Council of Teachers of Russian/American Councils for International Education.
Taylor will live with a Russian family for the year. This living situation, she says, is preferable to dorm life because it will allow her to "learn Russian through everyday interactions and experience Russian culture and food in a safe environment." Being able to converse informally with Russians of different ages will, she predicts, improve her ability to speak and understand the language.
The program also encompasses a variety of weekend cultural activities involving travel to major cities and cultural landmarks throughout Russia.
Much of her course of study will be focused on Russian language and literature, but she hopes to be able to take at least one course in computer science while she is abroad.
"I'm very interested in seeing how computers are integrated into Russian society and culture," she says.
Taylor was first drawn to Russian literature as a student in middle school. After reading George Orwell's classic 1984, she noticed a list of similarly dystopian fiction including We by Yevgeny Zamyatin.
"It was available only in Russian, but I found other Russian novels in translation," she says. She began with the work of the Nobel Prize-winning Soviet dissident Aleksandr Solzhenitsyn and moved on to Dostoevsky and Tolstoy. But she didn't have an opportunity to study the Russian language until she came to Bryn Mawr. "I had heard that Bryn Mawr's Russian program was great," Taylor says.
Bryn Mawr is the lead institution in a consortium of colleges and universities hosting the National Flagship Language Program in Russian, part of the National Security Education Program funded by the federal government.
Taylor has taken full advantage of the opportunities presented by the Flagship program, enrolling in intensive language study during the academic year and then attending its Russian Language Institute last summer.
Re-reading Russian classics in the original-and discovering Russian authors she hadn't read in translation-was a real thrill.
"I'm just in love with Pushkin," she says.
In addition to her conversation sessions with professors and teaching assistants, she has sought out Russian speakers outside the academy.
"I started going to a hair salon operated by Russian immigrants," she says. "I visited several times before I had the courage to mutter a Russian word in response to an English question the hairdresser asked. She was so excited to hear me speaking Russian, and very kind about speaking slowly and simply so that I could understand her. I've found Russians to be friendly and helpful when I make an attempt to speak their language."
Nevertheless, she says, total immersion is necessary for professional-level language competency; that is why the Boren awards favor programs, like the one she has selected, that last a whole academic year.
Like the Flagship language program, the Boren awards are funded by the National Security Education Program, which "draws on a broad definition of national security … including sustainable development, environmental degradation, global disease and hunger, population growth and migration, and economic competitiveness."
Taylor believes that second-language acquisition is critical to U.S. well-being and competitiveness in many fields, and argues that Russian is a critical language for a number of reasons. Although the Cold War is over, the former Soviet Union's large store of nuclear weapons, some of which have been stolen or lost in the post-Soviet era, pose a threat to U.S. and world security that will require the attention of competent Russian speakers in the U.S. government, she says.
"Russia is also the largest country in the world," Taylor points out, and it "has huge deposits of natural resources, including timber, gold, diamonds, and oil." Russia's growing presence on the Internet has significant implications for U.S. intellectual property interests, and Russian remains a lingua franca throughout the former Soviet Union and in much of Eastern Europe, she says.
Internet security is of particular interest to Taylor, who has been fascinated by the codes and ciphers since she participated in a summer program in cryptology for gifted students at the Johns Hopkins University as a young teenager. She sees natural-language acquisition and processing, cryptology, and software engineering as strongly related fields that require similar skills.
"I think studying Russian has sharpened analytical skills I use for computer science," she says. "And being able to read Russian-language sites on the Web has given me perspectives on world events that I would never see otherwise. It's opened a whole new world to me."
Comments Off

on Boren Scholarship to Fund Year in Russia for Sophomore Chantal Taylor