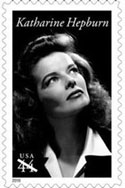 Join Bryn Mawr College President Jane McAuliffe and U.S. Postal Service officials at 11 a.m. on Wednesday, May 12, in the Campus Center as they celebrate the new Katharine Hepburn postal stamp.
This event is free and open to the public and the stamp will be available for sale at the Campus Center mail-room following the ceremony.
Bryn Mawr College is home to The Katharine Houghton Hepburn Center, which challenges women to lead publicly engaged lives and to take on important and timely issues affecting women. The center honors Hepburn and her mother, Katharine Houghton Hepburn, class of 1900, an early suffragist and family-planning advocate.
A 1928 graduate of Bryn Mawr College, where she first took up acting, Hepburn is the only actor to ever win four academy awards.
Hepburn majored in history and philosophy at Bryn Mawr. As an undergraduate, she played parts in several College productions, crowned by her role as Pandora in John Lyly's "The Woman in the Moone" at Bryn Mawr's Grand May Day celebration in 1928. "I don't remember being stage struck, but I obviously was – wildly," she told The Washington Post in 1990. She performed briefly at a stock company in Baltimore the summer after graduating; then it was on to New York and Hollywood.
Unconventional in all things, Hepburn was anti-Hollywood, defying stereotypes of the day in behavior and fashion. A shrewd businesswoman, she convinced Howard Hughes to purchase for her the film rights to The Philadelphia Story, in which she had played Tracy Lord to rave reviews on Broadway. She sold the rights to MGM and Louis B. Mayer on the condition that she would star in what would become one of her most successful motion pictures. Off-screen and on, Hepburn epitomized the strong, independent woman who speaks her mind – a trademark that mirrored her own life.
In a 1973 visit to the College, Hepburn told Bryn Mawr undergraduates, "Bryn Mawr isn't plastic, it isn't nylon, it's pure gold. … I came here by the skin of my teeth; I got in and by the skin of my teeth I stayed. It was the best thing I ever did. Bryn Mawr was my springboard into adult life. I discovered that you can do anything if you work hard enough. I feel that I was enormously lucky to come here. I am very proud when I see the name, very proud."
Hepburn's stamp is part of the U.S. Postal Service's "Legends of Hollywood" series. It was designed by Derry Noyes and is based on an image from the 1942 film "Woman of the Year." Hepburn passed away in 2003; the May 12 issue date marks what would have been her 103rd birthday.
In addition to the stamp being available for sale, a large selection of greeting cards from the Library Publications card line is available at the Bryn Mawr Bookshop, which is also located in the Campus Center.
The Bookshop also sells boxed note cards featuring the College seal and campus scenes.
Comments Off

on Postal Stamp Honoring Katharine Hepburn '28 to Be Celebrated at May 12 Ceremony