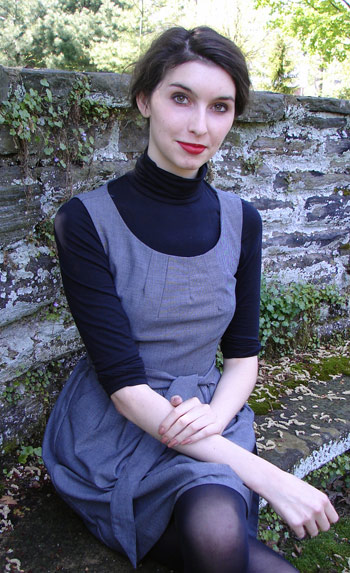 Jessica Rizzo '11, a double major in theater and English, is one of just 20 students nationwide to have been selected for the $34,000 Beinecke scholarship. The coveted awards are given to college juniors who "have demonstrated superior standards of intellectual ability, scholastic achievement and personal promise" during their undergraduate careers; they fund graduate study in the arts, humanities or social sciences.
The Beinecke program encourages talented students "to be courageous in the selection of a graduate course of study in the arts, humanities and social sciences." For Rizzo, who is deeply committed to studying theater, that aspect of the scholarship is especially welcome: "It's one of the few scholarships that support an advanced degree in fine arts," she observes.
Degree programs that interest Rizzo include those that focus on dramaturgy, dramatic criticism, and playwriting. A career as a playwright is her goal, but she is also drawn to the academic world.
"I've been particularly impressed by Bryn Mawr faculty members who are professor-artists, who integrate the two worlds," Rizzo says, citing Bryn Mawr Theater Program Director Mark Lord and Creative Writing Program Director Karl Kirchwey as examples. "That's a model I've been lucky to have."
"I am interested in scholarship for its own sake and for the ways it will feed and inform the artistic work I'm doing, and vice-versa," Rizzo says.
A native of the San Francisco Bay area, Rizzo has taken part in dramatic productions since childhood, but it wasn't until she came to Bryn Mawr, she says, that she began to integrate her interest in theater with her academic pursuits.
"At Bryn Mawr, it all began to coalesce," Rizzo says. "I realized that I didn't have to separate theater from my intellectual and academic interests. This is the place where what I do and what I study come together."
As an English major, Rizzo has focused on courses that deal with dramatic literature. An introduction to critical feminist studies also "planted a very important seed," Rizzo says. Since she takes more than a full course load each semester, she has had a chance to sample several disciplines. She finds inspiration in German literature and in philosophy; a recent course on phenomenology was especially intriguing. It all shows up in her theater work, she says.
Rizzo has acted in several productions of the Bryn Mawr-Haverford Theater Program. She has served as a co-director of two of the program's efforts: a production of The Tempest that played in English House while Goodhart Theater was undergoing renovation and Peter Handke's Offending the Audience, the production that inaugurated the newly reconfigured theater space last fall.
This spring, Rizzo's play Blessed Among Women was one of six projects selected for the Bi-Co Student Theater Festival.
Although she has been writing plays for as long as she can remember and has taken playwriting courses at Bryn Mawr, the student theater festival represented her first opportunity to see a project through to completion, with the full support of the theater program and its facilities.
Her fellow theater students were critical, too, Rizzo says.
"It was an unusual script, and some actors might find it baffling," she says."It's such a luxury to have smart actors who are also intellectuals and were willing to engage with me. It's what makes an acting ensemble or a class work—when everybody is equally engaged and committed to the project."
Comments Off

on Playwright Jessica Rizzo '11 Wins Coveted Beinecke Scholarship