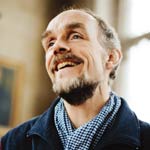 Associate Professor of the Arts and Director of the Creative Writing Program Karl Kirchwey has been named the fifth Andrew Heiskell Arts Director at the American Academy in Rome, a position he will hold for a three-year term beginning July 1 until he returns to Bryn Mawr for the fall 2013 semester.
Visiting Assistant Professor Daniel Torday will direct the Creative Writing Program in Kirchwey's absence. Torday has taught fiction and nonfiction in the Creative Writing Program since 2007, and directed the program during the fall semester of 2008. From 2000 to 2005, Torday was an editor at Esquire Magazine, where he edited book reviews and features and helped develop some of the magazine's longest-running features. His short stories, criticism, and nonfiction have appeared in Esquire, The Kenyon Review, The New York Times, and Glimmer Train, among other publications.
Since coming to Bryn Mawr in 2000, Kirchwey has diversified and expanded the Creative Writing Program, making it one of the most distinguished in the nation at a college the size of Bryn Mawr. The Creative Writing Program Reading Series has become a premier stop for writers in the Philadelphia region, and in recent years has featured authors including Sandra Cisneros, E.L. Doctorow, Umberto Eco, Nadine Gordimer, Peter Matthiessen, Suzan-Lori Parks, Robert Pinsky, Zadie Smith, Mark Strand, Derek Walcott, August Wilson, and others.
In 2003 Kirchwey received Bryn Mawr's Rosalyn R. Schwartz Teaching Award.
"My third book of poems was completely shaped by the Rome Prize year I spent at the American Academy in 1994-95," says Kirchwey. "It is an honor to have this opportunity to serve other artists in Rome and to represent Bryn Mawr College at this important overseas research and study center. "
Of the writer who will shepherd the College's creative-writing program during his absence, Kirchwey says, "In addition to being a wonderful teacher, Daniel Torday has been responsible for bringing a new generation of writers and teachers to Bryn Mawr, and under his directorship the Creative Writing Program will continue to flourish. I look forward to my return to the Bryn Mawr community in 2013."
Kirchwey's sixth book of poems, Mount Lebanon, will be published by Marian Wood Books/Putnam in the spring of 2011, and his translation of Paul Verlaine's first book of poems, called Poems Under Saturn, will be published by Princeton University Press at the same time. He will present a reading from these works as part of the 2010-11 Creative Writing Program Reading Series.
As arts director for the American Academy in Rome, Kirchwey will share in the task of shaping and articulating the Academy's broad vision for the arts, and is chiefly responsible for implementing this vision through the Academy's programmatic activities.
The American Academy in Rome, founded in 1894, is an independent, privately funded institution that provides opportunities for American artists and scholars to pursue scholarly or artistic projects in close association with the cultural heritage of Rome.
Comments Off

on Creative Writing Program Director Karl Kirchwey to Serve as Andrew Heiskell Arts Director at the American Academy in Rome