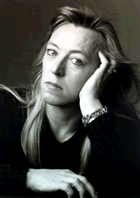 Nobel Peace Prize-Winner Jody Williams will give the Commencement Convocation address to Bryn Mawr College's graduating class on Saturday, May 15, at 2:30 p.m. on Merion Green.
Williams received the Nobel Peace Prize in 1997 for her work to ban landmines through the International Campaign to Ban Landmines, which shared the Peace Prize with her that year. Williams was the 10th woman (including Bryn Mawr's Emily Greene Balch, class of 1889) in history and the third American woman to receive the Nobel Peace Prize.
"Professor Williams has been a tireless advocate for human rights on a global scale," says Bryn Mawr President Jane McAuliffe. "As we prepare to enter Bryn Mawr's 125th year, one of the most consistent elements or our history has been a dedication to peace and social justice. It is thus a great honor to welcome a convocation speaker who has embodied this commitment."
Williams oversaw the ICBL's growth to over 1,300 organizations in 95 countries working to eliminate antipersonnel landmines. In an unprecedented cooperative effort with governments, United Nations bodies, and the International Committee of the Red Cross, she served as a chief strategist and spokesperson for the ICBL as it dramatically achieved its goal of an international treaty banning antipersonnel landmines during a diplomatic conference held in Oslo in September 1997.
Since January of 2006, Williams has worked to achieve her mission through the Nobel Women's Initiative, which she chairs. Made up of Williams and five fellow Nobel Peace Prize-winning women, the initiative seeks to use the prestige and access afforded by the Nobel Prize to spotlight and promote efforts of women's rights activists, researchers, and organizations working to advance peace, justice, and equality for women.
In February-March 2007, Williams led a U.N. Human Rights Council high-level fact finding-mission to Darfur.
Williams still serves the ICBL as the campaign ambassador and editor of the organization's landmine report, and, since 2003, has held a faculty position of distinguished professor of social work and global justice at the University of Houston's Graduate College of Social Work.
Prior to beginning the ICBL, Williams worked for eleven years to build public awareness about U.S. policy toward Central America. From 1986 to 1992, she developed and directed humanitarian relief projects as the deputy director of the Los Angeles-based Medical Aid for El Salvador. From 1984 to 1986, she was co-coordinator of the Nicaragua-Honduras Education Project, leading fact-finding delegations to the region. Previously, she taught English as a second language in Mexico, the United Kingdom, and Washington, D.C.
Bryn Mawr College divides the Commencement festivities into two parts: convocation and commencement.
Convocation occurs on Saturday and features an address from an invited guest speaker along with remarks from the senior class president(s) and representatives from Bryn Mawr's graduate schools. Degrees are conferred on Sunday at commencement.
For more information on the weekend's activities, visit the Bryn Mawr College Commencement Web site.
Comments Off

on Nobel Peace Prize Winner Jody Williams to Give Commencement Convocation Address on Saturday, May 15