The new portrait of President Emeritus Nancy J. Vickers unveiled in Thomas Great Hall last week differs from the official portraits of Vickers' predecessors in one surprising particular: it is the first of Bryn Mawr's presidential portraits to be painted by a woman.
The artist, Ying-he Liu, looked on as President Jane McAuliffe welcomed Vickers back to campus for an informal unveiling ceremony.
McAuliffe, introducing Vickers, cited the gallery of Bryn Mawr presidential portraits as an inspirational reminder of the "exceptional leadership" Bryn Mawr has had throughout its history. Listing the College's past presidents, she briefly remarked on admirable qualities and accomplishments of each one before turning her attention to Vickers.
The president focused on four areas of achievement during the Vickers administration: commitment to building the faculty; promoting diversity in the campus population; overseeing the creation of a plan of shared governance for the College; and the striking renewal of the College's buildings and grounds.
When Vickers took the podium, she thanked McAuliffe, wryly noting, "It is a great act of generosity for the current leadership to invite the old guard back."
In retirement, Vickers is living in Boston and serving as the 17th president of the Dante Society of America.
Vickers said that she was gratified to learn that her portrait would hang on the northeast wall of Thomas, closest to the portrait of Marion Park, whom she characterized as "my presidential hero."
"In my inaugural address—I'm sure you all remember it word for word," Vickers quipped, "I quoted Marion Park extensively. Her example inspired me, and I'm proud to be placed beside her."
Vickers also said that she was pleased that her portrait was the occasion for a woman to join the ranks of Bryn Mawr's presidential portraitists, a group that includes John Singer Sargent. She described artist Ying-he Liu as "an extraordinary woman who came to the United States from China and made a life for herself."
The crowd drew closer when the curtain was lifted from the portrait, which depicts a standing Vickers, clad in her Yale-blue Ph.D. academic regalia, against a warm, reddish-brown background.
"I wanted to show her dignity, warmth, and wisdom," said Liu in a brief interview.
In the portrait, Vickers is holding an antique book with a marbled-paper cover.
"That book," Vickers, explained to the crowd, "was a gift to me from Mary Durfee Brown '30 in the second year of my presidency. It is an edition of Dante's Divine Comedy, so it is significant to me because during my years at Bryn Mawr, the Dante course was the one I regularly taught.
"But it is a special edition of the Divine Comedy," Vickers continued. "When you open it, you see that it is inscribed, "Abby Slade Brayton / Bryn Mawr College / October 1893. That is Mary's mother, who was a member of the Bryn Mawr Class of 1894. This was a very moving, touching reminder of Bryn Mawr's tradition of community."
The portrait is now hanging in its permanent home in the Great Hall.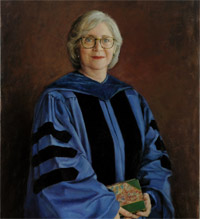 Comments Off

on McAuliffe Welcomes Vickers Back for Portrait Unveiling