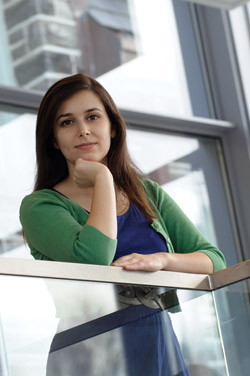 If you want to find Simone Biow '10 next year, try looking wherever in the developing world the weather is worst. Natural disasters, Biow says, can spark floods of entrepreneurial creativity in communities affected by them—creativity that is too often overlooked by formal disaster-relief efforts.
Biow, a political-science major with a knack for languages, is one of 40 college seniors nationwide who have been awarded the coveted 2010 Thomas J. Watson Fellowship, which funds a year of international, independent study. Biow will use the funding to visit Bangladesh, Mozambique, Vietnam, Ecuador, and Nicaragua in search of grassroots entrepreneurs who respond to extreme weather in inventive ways. Her itinerary follows the likely seasonal paths of weather-induced crises such as flooding, drought, and hurricanes.
Applying for a Watson Fellowship at Bryn Mawr
—By Michelle Mancini
Each year, Bryn Mawr College nominates four candidates for Thomas J. Watson Fellowships. Assistant Dean and Fellowships Adviser Michelle Mancini helps students shape their proposals and assemble their applications for Watson Fellowships.
The word unique is often used inappropriately, but the Watson Fellowship really does offer a unique opportunity. Where else can you get paid to travel around the world to pursue your dream project? Bryn Mawr is fortunate to be one of only 40 small institutions whose students are eligible for the Watson Fellowship.
Working with Simone was a true pleasure. One of the best parts of my job is seeing a student develop the germ of an idea into a full-blown project, and Simone was exemplary in the way she tackled this demanding process. I hope that she, like so many of our previous Watson fellows, will keep a blog next year, so I can travel with her vicariously (Current Bryn Mawr Watson Fellow Gillian Grassie '09 maintains a blog about her travels at http://www.gilliangrassie.com).
Students interested in learning more about applying for the Watson fellowship should come to an information session on Thursday, April 8, at 8 p.m. in Carpenter 25. More information about Bryn Mawr's application procedure is available online on the BMC Fellowships Web site.
The five nations in which Biow will conduct her research are, as the Watson Foundation's guidelines for fellowship applications require, areas where she has never "lived or studied for a significant length of time." But she is hardly a stranger to international experience.
Born to an American father and an Italian mother, Biow was raised in a bilingual, bicultural household. Before her senior year in high school in Austin, Texas, she spent a summer in an exchange program in Japan. Each summer of her college career, Biow worked in humanitarian, human-rights, and development projects in developing nations.
Biow spent part of the summer of 2007 working with a group providing HIV/AIDS education in Malawi. In 2008, a Bryn Mawr international internship grant funded her work documenting child-labor practices for the United Nations' International Labour Organization in the island nation of Madagascar, off the southeastern coast of Africa. In 2009, a Bryn Mawr Alumnae Regional Scholarship enabled her to travel to Colombia, where she assisted grassroots development organizations on micro-financing programs, indigenous and Afro-Colombian land rights issues, and restorative justice projects. Biow spent her junior year abroad at the London School of Economics.
"Bryn Mawr propelled me outward," Biow says. "The College helped me realize that international development and global poverty alleviation could be not only a lifelong interest, but a potential career for me."
Biow credits not only summer internships, but also inspiring professors at Bryn Mawr, Haverford and the University of Pennsylvania, for helping her discover a calling in international development work. Bryn Mawr's network of international alumnae has been important as well. Through the Bi-College Career Development Office, she completed a weeklong externship with Shazia Rafi '79, the Secretary-General of Parliamentarians for Global Action, a nonprofit, nonpartisan international network of over 1,300 legislators in more than 100 elected parliaments around the globe.
"I have had several opportunities to meet people who work in the field of international development," says Biow. "Those connections are very important in finding a way to enter the field."
Biow's Watson project borrows the concept of "creative destruction," a term used by Hungarian economist Joseph Schumpeter to describe radical innovations that generate long-term economic growth even as they destroy the businesses founded on older technologies. Biow thinks a similar spirit of creativity often manifests itself in the developing world in the aftermath of natural disasters.
For Biow, a critical moment in the development of the idea that would become her Watson project while she was in Madagascar. On a weekend trip to a coastal town, Biow was delayed when she reached a river crossing where a bridge had recently been destroyed by a monsoon.
People living in the area, Biow soon realized, had transformed this misfortune into an economic opportunity:
Some cunning, resourceful people had taken the remains of the ruined bridge and, using thatched palm leaves, created a barge to transport vehicles. Not surprisingly, they charged a substantial fee for their service-a service that was as inefficient as it was slow going. Travelers generally wanted to eat and/or engage in distractions as they waited, sometimes stuck for hours. Huts consequently grew up along both banks, snacks and coffee were sold, entertainment provided. When our turn to traverse the river came, we drifted on the barge with our mini-van, pushing it along with bamboo sticks.
An impromptu village arose almost overnight, Biow says. On her second trip to the coastal village, the bridge had been repaired, and the village that had developed around the makeshift ferry had vanished. On a third trip, both village and ferry had reappeared, and the bridge was gone, even though the monsoon season was over and no flooding had occurred.
Biow speculates that those who had benefitted from the destruction of the bridge by flooding had taken a cue from the weather and acted as agents of creative destruction in their own right.
This kind of income-generating creativity on the part of impoverished, marginalized people in the face of natural disasters can offer insight into more effective disaster-relief and development efforts, Biow thinks.
The nations Biow has chosen to visit during her Watson year, she says, all share relatively predictable (that is, seasonal) extreme weather and are classified as "least developed countries" by the United Nations. In other particulars, however, the five countries she proposes to visit are quite diverse, with widely varying cultural, social, economic, and political systems.
In each country, she plans to locate regional grassroots organizations that can help her find ingenious responses to natural disasters and interview the people who have developed them, in hopes of gaining insight into the context in which grassroots, sustainable development can take place. By documenting what she finds, she aims to create "a repository of information, a sort of local oral history of resourcefulness in areas where such natural disasters typically strike, and in countries where resourcefulness has typically made a difference in the local and broader economies."
Comments Off

on 2010 Watson Fellow Simone Biow Will Follow the Path of 'Creative Destruction'