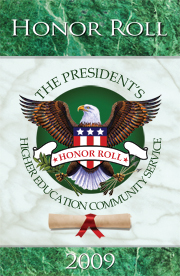 The Corporation for National and Community Service has honored Bryn Mawr College with a place on the President's Higher Education Community Service Honor Roll for exemplary service efforts and contributions to America's communities. Bryn Mawr is one of only four women's colleges nationwide that were named to the Honor Roll with Distinction.
The Honor Roll's 2009 special focus area recognizes service that supports high school graduation and college readiness of disadvantaged youth, an area which has been the focus of much of the ongoing work of the Civic Engagement Office.
Bryn Mawr College's 2009 application to the Honor Roll described  mentoring programs at Parkway West High School and Beeber Middle School in Philadelphia and a partnership between the instructor and students of Bryn Mawr's "Introduction to Architectural Design" course and YouthBuild, a Philadelphia charter school that serves out-of-school youth ages 18-21 and provides them the opportunity to earn their high school diplomas and learn vital job skills through a rigorous academic program, vocational training, and community service.
"In completing the application, it was actually hard to pick which three programs to highlight as 'exemplary,' as we have so many that fit the criteria," says Nell Anderson, co-director of the Civic Engagement Office and director of Praxis and community partnership programs.
Students also took part in a number of community-based work-study positions at organizations, including Women's Medical Fund and Fair Food Philadelphia, and participated in the Volunteer Income Tax Assistance Program, where Bryn Mawr students helped Norristown's low- and moderate-income tax payers receive more than $1 million dollars in tax returns.
All in all, nearly 950 Bryn Mawr undergraduate and Graduate School of Social Work and Social Research students put in a total of 98,149 hours of community service.
"Bryn Mawr really walks the talk about our goal for the meaningful creation and sustainability of community collaborations-through-service," says Darlyne Bailey, dean of the GSSWSR and special assistant to the president for community partnerships.
"Achieving this recognition two years in a row sends a signal to both prospective and current students that Bryn Mawr truly prioritizes civic engagement as an integral component of liberal arts education," adds Ellie Esmond, co-director of the Civic Engagement Office and director of service and activism.
Launched in 2006, the Community Service Honor Roll is the highest federal recognition a school can achieve for its commitment to service learning and civic engagement. The award is based on a number of factors, including scope and innovation of service projects, percentage of student participation in service activities, incentives for service, and the extent to which the school offers academic service-learning courses.
The Honor Roll is a program of the Corporation for National and Community Service, in collaboration with the Department of Education, the Department of Housing and Urban Development, and the President's Council on Service and Civic Participation.
Comments Off

on Bryn Mawr Named to Community Service Honor Roll for Second Consecutive Year