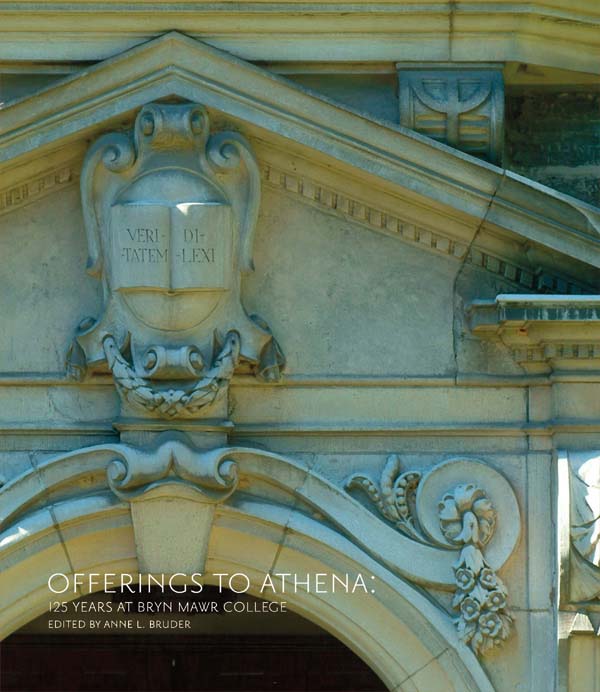 What was life like for students at Bryn Mawr 10, 25, 50, or even 125 years ago?
Aided by a small cadre of contemporary students, Postdoctoral Fellow Anne Bruder is sifting through back-smoker diaries, newspaper clippings, journals, students' letters, and other archival materials—some newly discovered—in search of the myriad answers to that question.
A young scholar who specializes in the history and literature of women's education, Bruder is charged with creating Offerings to Athena: 125 Years at Bryn Mawr, a richly illustrated, 250-page volume scheduled for release in December of 2010. Eager readers may now order the book online, at a discount, on the 125th-anniversary Web site.
Because Bryn Mawr was such a groundbreaking and influential institution, much has been written about the College's early history, Bruder says. There are excellent biographies of Joseph Taylor, the College's founder, and M. Carey Thomas, Bryn Mawr's first dean and second president, who had an unparalleled role in shaping Bryn Mawr for its first 30 years. These are complemented by several other early institutional histories. With Offerings from Athena, Bruder aims to add the voices of students to the published roster.
Bruder, whose two-year position is supported by the Council on Library and Information Resources and a generous grant from Joanna Rose '52, began work at Bryn Mawr last June. She is also helping to organize an international conference on women's education in honor of the College's 125th anniversary, to take place in the fall. Her commitment includes teaching two courses in the English department as well.
In the College's archives, Bruder is mining a rich vein of material culture and narrative. "The book will reproduce banners, suffrage pins, bits of scrapbook, stationery, photos, student letters and diaries, and stories from the College News and Bi-Co News as well as publications like Godey's Lady's Book, Time Magazine, The Philadelphia Inquirer, and The New York Times," Bruder says.
But she also appealed to alumnae/i for their own souvenirs and stories, and received a gratifying response in the form of "photographs, artifacts, and … the time and expertise" of alumnae/i.
Bruder hired several students who began contributing to the project last fall, giving her assistance with the book as well as some insight into the lives of Bryn Mawr students.
"Getting to know Bryn Mawr undergraduates in that context was very helpful in preparing to teach a course the following semester," Bruder says. "Knowing how earnest and hardworking they are as assistants let me know that I could expect a lot from them as students."
"American Women's Life Writing," the course she is currently teaching, has yielded another pair of dedicated student assistants.
"I've been happy to find a way for any student who has expressed interest to be involved," Bruder says.
It's an appropriate work force for a book focused on telling the story of Bryn Mawr from the perspective of students.
Comments Off

on Offerings to Athena Explores Students' Perspective on Bryn Mawr History