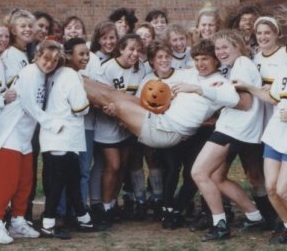 A new fund has been established in honor of the late Associate Director of Athletics Ray Tharan, who died last fall after 26 years of service to the Bryn Mawr Department of Athletics and Physical Education. Director of Athletics, Physical Education, and Wellness Kathleen Tierney, joined by her predecessors Amy Campbell (1999-2006) and Jen Shillingford (1980-89), announced the creation of the Ray Tharan Memorial Fund in a letter dated March 1. The text of the letter follows.
Dear friends,
Many of you know that our friend and colleague Raymond Tharan died suddenly this fall. Ray was a hard working, caring and sensitive man who gave loyal service to the College for the past twenty-six years and touched the lives of countless students, faculty and staff. Hundreds of students benefitted from his coaching, teaching and mentoring, and all of us appreciated his positive attitude and good humor. Ray served Bryn Mawr with loyalty and distinction and is greatly missed by the members of the Athletic Department and the greater College community.
His dedication and commitment to physical education, recreation and athletics were gifts to all who knew him. For the past twenty-six years Ray was a constant in Schwartz Gymnasium, offering a friendly smile and eagerness to help everyone in any way he could. In 1994, the Raymond Tharan Service Award was established, honoring Ray's extraordinary support and service to the Athletic Department. The award is presented annually at the Athletic Banquet to a Bryn Mawr student, faculty or staff member who exhibits spirit and support for all recreational, club and intercollegiate teams.
In memory of Ray's many contributions to the Bryn Mawr community, the College has established the Raymond Tharan Memorial Fund. The Fund will honor Ray and the work he valued, by supporting Bryn Mawr students, faculty and staff in two specific areas; emotional and physical support of students, faculty and staff, and recreational and athletic program and facility enhancements. Your contribution to this fund will help us connect past, present and future Mawrters, celebrating the legacy of Raymond Tharan.
Thank you for helping us honor Ray and his legacy by considering a gift to the Raymond Tharan Memorial Fund. To donate on-line: https://secure.brynmawr.edu/campaign/. When making an on-line donation skip the line that reads "I would like to designate my gift" and go to the line that says "If designation not listed, please specify." On that line write Raymond Tharan Memorial. Gifts may also be sent directly to Bryn Mawr College/Resources, Bryn Mawr, Pa. 19010. Please contact Director of Individual Giving Sally Harrison '71 (sharriso@brynmawr.edu or 610-526-5121) for more information.
With Warm Regards,
Comments Off

on Ray Tharan Memorial Fund Honors Longtime Athletic Department Staffer