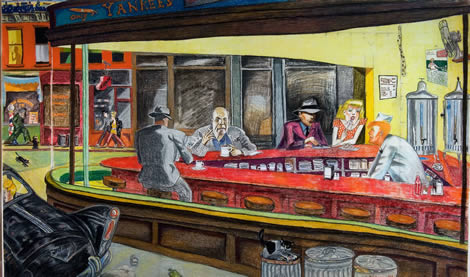 Bryn Mawr College's 2010 spring exhibition, Old Masters and Modern Muses: Red Grooms's Portraits of Artists, 1957-2009, will showcase more than 30 works of art by prominent American artist Red Grooms. The exhibition will feature drawings, prints, paintings, and sculptures spanning five decades of Grooms' career, and include a number of recent works that have never been exhibited before.
Old Masters and Modern Muses will be on view in Canaday Library from March 25 through June 5, Tuesday through Saturday, from 1 to 5 p.m., and will be accompanied by a fully illustrated catalog and related programming. The exhibition is free and open to the public.
The exhibition at Bryn Mawr is the first exploration of an important theme within Grooms's work: the artist's portrait. Among the exhibited works are portrayals of iconic modern artists such as Henri Matisse, Pablo Picasso, and Salvador Dali, alongside old masters such as Francisco de Goya, Rembrandt van Rijn, and Titian. Also featured in the exhibition are group portraits, set at famous gathering places such as Les Deux Magots in Paris and the Cedar Bar in New York City's Greenwich Village. The recent works include individual large-scale drawings of German expressionist painters Otto Dix and George Grosz, and Dada artists Marcel Duchamp, Hugo Ball, and Baroness Elsa von Freytag-Loringhoven, among others.
Many works in the exhibition are more personal in nature, such as Rudy and Lupa, a small sculpture of Grooms's longtime friend and collaborator, the photographer Rudy Burckhardt, and an ink drawing of artist Mary Frank that Grooms sketched while traveling through Italy in 1960. Also on display will be a selection of self-portraits, including one from 1957—the very beginning of his career—and the 2008 Self-Portrait with Barnum, Edison, Twain, and Rice, on loan from the National Portrait Gallery, Smithsonian Institution.
Born in 1937 in Nashville, Tenn., Grooms came to national prominence in the 1970s and 1980s through his larger-than-life multimedia installation pieces, such as Ruckus Manhattan (1975) and Philadelphia Cornucopia (1982), which was installed at the Institute of Contemporary Art, University of Pennsylvania, as part of the city's tricentennial celebration. In 1985, the Pennsylvania Academy of the Fine Arts organized a major retrospective exhibition of Grooms's work, which traveled to museums across the county. In the late 1980s, Philadelphia Cornucopia was again on view at 30th Street Station.
On March 25 at 7:30 p.m., the Bryn Mawr Film Institute will present a special screening of Red Grooms's films in conjunction with the College's exhibition. The hourlong film program will feature three of Grooms's earliest and rarely-seen films—Shoot the Moon (1962), Fat Feet (1966), and Tappy Toes (1968)—followed by a question-and-answer session with the artist. For more information on the screening, contact Valerie Temple Lange at vtemple@brynmawrfilm.org.
Funding for this exhibition and the accompanying catalogue has been generously provided by the Friends of the Bryn Mawr College Library. For further information about the exhibition and related programs, please contact Emily Croll, Curator/Academic Liaison at Bryn Mawr College at 610-526-5335, ecroll@brynmawr.edu.
The Friends of the Bryn Mawr College Library host annual spring and fall exhibitions at the College; previous exhibitions have included Darwin's Ancestors: Tracing the Origins of the "Origin of Species," and Intimate Devotion: The Book of Hours in Medieval Religious Practice.
Comments Off

on Red Grooms Exhibition: Iconic Pieces and Previously Unseen Works