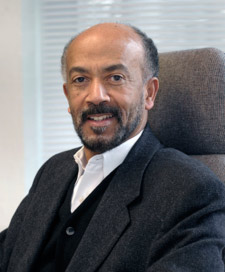 Responses to the devastating earthquake that struck Haiti on Jan. 12 have sparked considerable controversy. Politicians, aid workers, and pundits have argued about where relief efforts should be directed and who should be in charge. Questions about how best to rebuild an infrastructure that was inadequate even before the quake struck have led to debates on models of economic development and issues of national sovereignty. Bryn Mawr Now asked Professor of Political Science Michael Allen, an expert on international political economy in Africa and the Caribbean, to shed some light on these thorny issues.
Allen is the author of Globalization, Negotiation, and the Failure of Transformation in South Africa and the forthcoming Ten Rules for Development. He has been a consultant in international relations at the Overseas Development Institute in London, a visiting fellow at the Center for International Affairs at Harvard University, lecturer in the Department of Government at the University of the West Indies, and a trade officer in the Ministry of Foreign Affairs of Jamaica. At Bryn Mawr, he was instrumental in establishing the curriculum for a minor in international studies. Allen was recently appointed by the American Political Science Association to chair its 2010 prize committee for the best doctoral dissertation in the field of international relations.
Q: What is controversial about the delivery of earthquake aid to Haiti?
A: Many of the critiques of the aid effort focus on a mismatch between the good intentions of those who are helping and the priorities of those who need help. Those who are flying the aid in don't necessarily have good intelligence on the ground, by which I mean not only knowledge of logistical challenges, but an understanding of social structures—how, for example, to find the most vulnerable populations and deliver aid to those who are least able to fight for it. Local community groups have organized themselves to advise aid providers but have largely been ignored.
Some critiques are coming from Caribbean diaspora communities. When the cameras are off, the ones providing the most aid in the Caribbean are members of the Caribbean diaspora. In the normal course of events, they are constantly sending a high volume of contributions that are generally not counted in aid tallies, but characterized as "remittances." Haitian expatriates have a lot of social intelligence about how Haitian society works and how to maximize aid, dollar for dollar. They feel that they have been sidelined and can't get a word in edgewise about the distribution of aid; they have an emotional investment, and they feel that their wisdom and experience not being taken advantage of.
Q: Why wouldn't aid donors take advantage of the expertise of those familiar with Haitian society?
A: Habit. This follows a structural archetype of the way power works in the world. Most institutions—not only states—work in a top-down fashion. Those who have the power and the money decide what to do with it. It is a didactic rather than a dialogic approach to development.
Q: What have been the results of that approach in Haiti?
A: The neoliberal approach that major aid donors have taken has been to build roads, ports, and airports so that foreign investors can come in and employ the Haitian people in exporting goods and services to the rest of the world. Because the country has been deforested and the soil depleted, people in the countryside could not sustain themselves and relocated to the cities, creating the overpopulated shantytowns that were so vulnerable to earthquake damage. But the wages people can earn working in export facilities does not reach subsistence level, either.
Haiti shares a problem with other nations that have accepted this model of development, even those that seem more successful on the surface. They have experienced growth, but not true developmentm because they are not in control of the reproduction of production—that mixture of savings, technology, and institutional leadership that allows the security necessary for self-determination. A society that has to import vital parts of these is structurally deficient. It's like a cell with no nucleus: how is it going to reproduce itself?
Q: So who should be making decisions about where to direct aid money—both emergency relief aid and aid for rebuilding?
A: Priority in decision-making should go, in this order, to
The Haitian government
Haiti's partners in the Caribbean Community (CARICOM)
United Nations Agencies
Q: Is the Haitian government in a position to be directing aid efforts right now?
A: Haiti's state institutions and personnel have been devastated by the earthquake, but an early phase of the recovery should be aimed at getting the state back in a position to drive the rebuilding effort. Right now I don't get the sense that the Haitian government is in the driver's seat.
Q: Haiti is ranked very high on a widely cited index of perceived corruption. How would you respond to those who say that its government should not be trusted to disburse aid money?
A: The question of corruption is one that must be addressed. It is a question of credibility and confidence. That is why the conversation about corruption in Haiti should occur in the context of the Caribbean Community (CARICOM)—because Haitians will tend to trust the outcome more than they would trust judgments of traditional aid donors. Haitians are likely to suspect that charges of corruption coming from powerful, wealthy nations are a pretext for other kinds of geopolitical or economic manipulation.
Q: What recommendations would you make for rebuilding and developing Haiti?
It should start with rural rehabilitation and development—enabling rural households to produce more food more efficiently. The first step is rehabilitation of the land: reforestation, re-enrichment of the soil, flood control, river and stream management. Rural electrification and improving rural roads are important steps, as well.
If development is focused solely on the cities again, all you will do is draw more people from the countryside. No matter how fast you build factories, you cannot provide enough income in cheap-labor export operations to support the huge numbers of internal migrants that have come from the countryside in recent years. If you help people sustain themselves where they are, the pressure from the countryside will be diminished.
When it comes to urban areas, housing and law should be redesigned to make a virtue out of the fact that many Haitians are self-employed and run businesses out of their homes. Cottage industries—making clothes, preparing food, providing services like hairdressing and barbering, simple welding and mending, and arts and crafts—provide critical supplemental income for factory workers in export industries. If people live in an environment where they are not desperate for factory work, it releases pressure on their communities considerably.
Finally, I'd like to see cottage industry supplemented by urban farming, using techniques that have been developed in the United States and in Cuba in a systematic way that is relevant in the Haitian context.
Q: Do you have any advice for the legislative committees in the United States that are considering questions of how to direct earthquake relief and development aid to Haiti?
A: Government officials in wealthy nations should ask themselves what is meant by development, and what Haitians mean by development. They should be open to ideas that depart from the current export-economy model, and not be afraid of alternative solutions to the problems of addressing human needs, alleviating poverty, and creating strong societies.
Comments Off

on Q & A: Political Economist Michael Allen on Controversies Over Earthquake Relief in Haiti