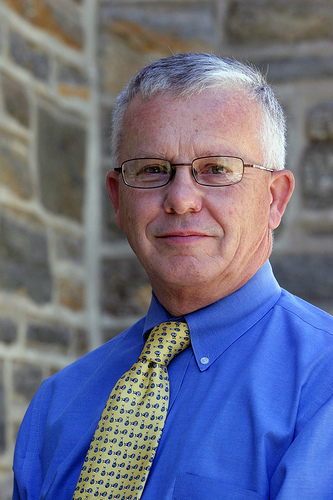 Bryn Mawr College Graduate School of Social Work and Social Research (GSSWSR) Professor Jim Martin is one of 35 national experts recently tapped by the Council on Social Work Education (CSWE) to create a new guide to help Schools of Social Work as they develop courses and programs for social-work students, community behavioral-health providers, and human-services agencies to better serve the needs of military members, veterans, and their families.
Martin has been joined in these efforts by other academics, veterans' affairs and military officials, and representatives of the leading professional organizations for social workers.
"More than 2 million men and women in uniform, and countless other government employees and civilian contractors, have deployed since 2001 to combat in Afghanistan and Iraq, some two, three, or more times. Each individual has someone at home (a wife, child, mother, father, sibling, grandparent, other relatives and loved ones) whose well being has also been impacted by this service and sacrifice," says Martin.
Martin points out that simply raising awareness among civilian social workers so that they begin every engagement with a new patient or client by asking the question "Have you, or someone close to you, served in the military or been deployed as a civilian in support of military or humanitarian operations or disasters?" would open an important conversation and go a long way toward helping veterans and their families.
"While the Department of Defense and the Veterans Administration are making unprecedented efforts to serve and support our returning veterans and their families, our civilian communities must step up and provide the support needed to achieve their successful reintegration into home, school, employment, and community life. Every social worker, every community agency must help insure that there are no wrong doors for those seeking assistance," he adds.
The CSWE guide, which is due to be published in June 2010, is part of a larger effort by the CSWE to increase concentrations and course offerings at social work programs that address military cultural awareness and combat-related mental disorders, such as depression and posttraumatic stress disorder.
A retired Army colonel, Martin is a recognized national leader in the area of military family services and support and he has served as a subject matter expert for numerous Department of Defense and other related federal research and program-development initiatives.
His 26-year-career in the Army Medical Department included clinical and research as well as senior management (command) and policy assignments. Martin was the senior social-work officer in the Persian Gulf Theater of operations during the first Gulf War and edited The Gulf War and Mental Health: A Comprehensive Guide.
The GSSWSR is one of the nation's oldest academic social-work programs. The school provides a learning environment that is supportive and intellectually rigorous, encouraging critical thinking and the expression of social-work values through classes, field-based training, research, and active civic engagement in collaboration with the College as a whole.
The Council on Social Work Education (CSWE) is a nonprofit national association representing more than 3,000 individual members, as well as graduate and undergraduate programs of professional social work education. Founded in 1952, this partnership of educational and professional institutions, social welfare agencies, and private citizens is recognized by the Council for Higher Education Accreditation as the sole accrediting agency for social work education.
Comments Off

on GSSWSR's Jim Martin Contributes to Guide for Educators and Those Working with Veterans and Their Families