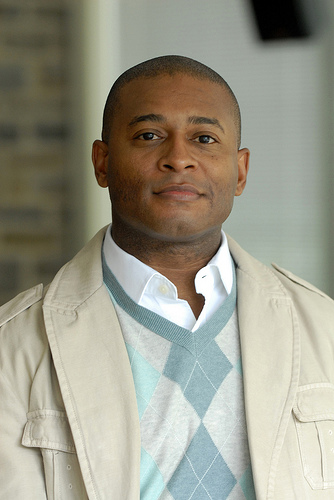 The Bryn Mawr College community is struggling to come to terms with the loss of Assistant Professor of Social Work and Social Research Kevin J. Robinson, who died unexpectedly last weekend at the age of 40. The community was notified with an e-mail from President Jane McAuliffe, who described Robinson as a "treasured colleague" whose loss is deeply felt.
Dean Darlyne Bailey of Bryn Mawr's Graduate School of Social Work and Social Research has announced that the College will host a memorial event to celebrate Robinson's life and work on Sunday, March 14, from 2 to 4 p.m. in Thomas Great Hall. members of the Robinson family will join the Bryn Mawr community as it remembers him.
A small funeral service for family, friends, and fellowship will be held on Friday, Feb. 19, at 7 p.m. at the Watkins, Garrett and Woods Mortuary, 1011 Augusta Street, Greenville, South Carolina 29605. The phone number is (864) 242-1144 and the fax number is 864-232-4636. A graveside committal will be held on Saturday, Feb. 20, at 1 p.m. at the Resthaven Memorial Gardens, Highway 20, Piedmont, South Carolina.
Kevin Robinson joined the Bryn Mawr faculty in 2007. A public-health researcher, he studied HIV and AIDS-prevention education, as well as the impact of social inequality on access to health care. Students and colleagues were quickly won over by his easygoing, sympathetic manner and his irreverent sense of humor; impressed by his innovative approaches to his work; and inspired by his commitment to serving the communities he studied. President McAuliffe recalled his receiving a special honor at Commencement last May, the Alexander Grance Hawkins Lectureship in Social Work, as "reflecting the unusual promise that Bryn Mawr saw in Kevin's contributions to this academic community."
According to Bailey, condolences and inquiries about Robinson have been pouring in from around the nation. It is evidence, she says, of the attention he lavished on his students, his colleagues, and the communities where he did research.
"Kevin wanted to know that his work would not simply end up on a shelf or on his CV—that it would make a difference in people's lives," Bailey said. "He was committed to that, and you could feel it when you spoke to him. We're suffering right now not only because we loved him so much, but because he loved us so much."
Robinson, a first-generation college graduate, grew up in a large family in Greenville, S.C. From early youth he was a high achiever, earning numerous leadership awards and scholarships to Clemson University, where he majored in biological sciences. He then earned a Master of Health Administration degree from the Pennsylvania State University, followed by a master's in social work from the University of Michigan.
After a period of working in the field in South Carolina, he entered a doctoral program in sociomedical sciences at Columbia University's Mailman School of Public health, from which he earned a doctorate in public health in 2006. A prestigious postdoctoral research appointment as a W.K. Kellogg Community Health Scholar brought him to the University of Michigan's School of Public Health, where he worked with 11 churches and two housing communities to develop and evaluate a program that addressed the high incidence of HIV/AIDS and other STDs among African-American adolescents in Flint.
Robinson's sunny, gregarious personality and unusual ability to forge meaningful connections with others made him especially well suited to community-based participatory research (CBPR), his preferred method of study. In CBPR, researchers consult members of the populations they propose to study before framing research questions and designing experimental protocols.
"The community drives the research," Robinson explained in an interview two years ago. "They set the priorities and have an interest in the findings and the dissemination of the findings."
According to Bailey, Robinson's work was part of a growing movement in the field of public health to value insights gained from qualitative research methods, as opposed to relying solely on the demographic or statistical approaches that have traditionally been privileged.
In the earlier interview, Robinson explained the appeal of the qualitative approach: "Some researchers worry that if the personal narratives of research subjects drive the research agenda, they'll get the wrong story—a story that's unrepresentative, a story that contradicts the prevailing theory. I'm less worried about getting the right story than about getting the story right."
At the time of his death, Robinson was at work on a project funded by the Centers for Disease Control, in which he partnered with the Philadelphia Health Management Corporation and the The Colours Organization, Inc., a service and advocacy group for LGBT communities of color in Philadelphia. The project involved the development of a new protocol for HIV education and intervention designed specifically for African-American men who have sex with both men and women–an important, but understudied group, Robinson said.
Michael S. Hinson, the founder and interim director of the Colours Organization, worked closely with Robinson for a little more than a year designing a protocol that is now undergoing preliminary testing with the aid of a community advisory board.
"Kevin brought so much to the process," Hinson said. "It has been so exciting to be involved from the ground up in the design of a pioneering, really innovative intervention, using some behavioral strategies that other folks just hadn't employed in their approaches to HIV intervention. Kevin brought so many inventive ideas to the table, but he was also a critical voice in making sure that the program we designed was practical – that other community organizations would actually be able to implement it and reproduce the results. "
One of Robinson's novel approaches was a technique called photovoice, in which participants are given inexpensive disposable cameras and asked to photograph people, places, and objects in their lives that might motivate or affect their behavior. Then they are asked to explain the photographs.
It was potentially a life-changing moment for some of the men on the community advisory board, Hinson said.
"There are people on the board who simply aren't accustomed to having people listen to their voices, or value their thoughts," Hinson said. "It affected them powerfully to be able to participate, and to help other people participate, in changing their own lives."
Robinson's many hours of community-based research in Philadelphia did not prevent him from being deeply involved in the Bryn Mawr campus community as well.
"Kevin was always willing to help students," said Bryn Mawr Director of Intercultural Affairs Christopher MacDonald-Dennis. "He taught at the Graduate School of Social Work and Social Research, but he also served as a mentor to many undergraduates, particularly those who were interested in public health as a career.
"He was especially good at provoking students to look for the 'why' of epidemics and health problems," MacDonald-Dennis noted. "For him, it didn't stop at how to react to problems. He wanted to know what social structures make it more likely for one group than another to be affected by a particular disease or condition. And he urged students to think about how they were going to use their education to have a positive impact on the world."
"After his family, his students came first," said GSSWSR Dean Bailey. For GSSWSR student Kyra Turner-Zogbekor, his untimely death is a bitter loss.
"He was such a source of support and encouragement to me," she says, "and I will miss my friend and mentor terribly. Kevin was a deeply committed, knowledgeable, warm, funny and spiritually grounded man who added a richness and diversity to the faculty body that students desperately seek. His light continues to live on in the many people that he touched throughout his life."
A Facebook page dedicated to Robinson's memory has drawn comments from around the world.
Comments Off

on Bryn Mawr Community Stunned by Loss of Health Researcher Kevin Robinson