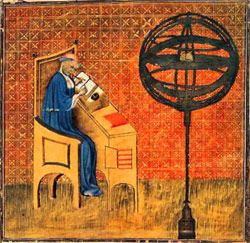 On Saturday, Feb. 20, Bryn Mawr will join the Delaware Valley Medieval Association (DMVA) in hosting a medieval-studies symposium. "Translatio and Translation in Medieval Europe," to take place in Wyndham Alumnae House from 9:30 a.m. to 3:30 p.m., will examine an important aspect of medieval thought in a variety of contexts.
"The concept of translation is central to medieval Europe, from the translation of texts from one language into another to representing events and ideas in different media to the transfer of power from one dynasty to another," says conference organizer Elly Truitt, an assistant professor of history at Bryn Mawr. "This one-day symposium explores this concept of translation in the areas of law, literature, history, medicine, art, and religion in medieval Europe."
"
Translatio
and Translation" is open to all students and scholars of the Middle Ages. To register, download and complete rhe reservation form at the
DMVA Web site
. The registration deadline is Saturday, Feb. 13.
The symposium schedule is as follows:
9:30 – 10:00 a.m. Coffee and registration
10:00 – 11:00 a.m. Maud McInerney (Haverford College): "Hector in the Alabaster Chamber: Translating History in the Medieval Troy Story"
11:00 a.m. – 12:00 p.m. Jennifer Borland (Oklahoma State University and the University of Pennsylvania Humanities Forum): "Accessing Health in the Régime du Corps"
12:00 – 1:00 p.m. Lunch
1:00 – 2:00 p.m. Jamie Taylor (Bryn Mawr College): "From Mouth to Page: William Langland's Testimonial Book"
2:00 – 3:30 p.m. Nicholas Watson (Harvard University):
"Work in Progress: The Thirteenth-Century Pastoral Revolution and the Making of Lay Identity"
"Translatio and Translation" is co-sponsored by the DMVA, the Bryn Mawr College Departments of English, French, History, and History of Art, the Bryn Mawr College Provost's Office, and the College's Class of 1902 Lecture Fund.
Comments Off

on Medieval-Studies Conference to Explore Translation