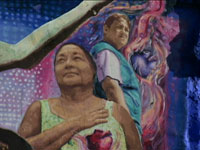 Bryn Mawr College's Katharine Houghton Hepburn Center and the Bryn Mawr Film Institute (BMFI) will host a screening of the documentary Concrete, Steel, & Paint at the BMFI, 824 Lancaster Ave., at 7:30 p.m. on Tuesday, Jan. 12. The screening will be followed by a discussion about criminal justice and community arts with the film's makers, Cindy Burstein and Tony Heriza, and Philadelphia Mural Arts Director and 2009 Hepburn Medal recipient Jane Golden.
Concrete, Steel & Paint takes the audience behind the walls of Pennsylvania's Graterford State Prison to reveal the tensions, challenges, and rewards of a unique restorative justice program in which prisoners worked with victims of crime on a set of murals.
The project was conceived as a way for victims of crime and their families to express the full impact of the crime upon their lives; a chance for the prisoners to ask for forgiveness; and as a symbol of hope and healing for the community.
At times during the film, the divide between the prisoners and the victims seems too wide to bridge. But as the participants begin to work together, mistrust gives way to genuine moments of human contact and common purpose. Their struggle and the insights gained are reflected in the art they produce.
The discussion of the film following the screening will be moderated by Jean Trounstine, professor of humanities at Middlesex Community College, and author of Shakespeare Behind Bars:The Power of Drama in a Women's Prison.
This event is co-sponsored by the Bryn Mawr College Katharine Houghton Hepburn Center and the City of Philadelphia Mural Arts Program and is supported in part by the Pennsylvania Humanities Council.

A $10 donation is suggested. Proceeds will benefit the Bryn Mawr Film Institute and the City of Philadelphia Mural Arts Program.
For tickets to the screening and post-screening discussion and reception, call (610) 527-4008, extension 109.
Comments Off

on Hepburn Center and BMFI Host Film Screening, Discussion of Documentary About Mural Arts Prison Project