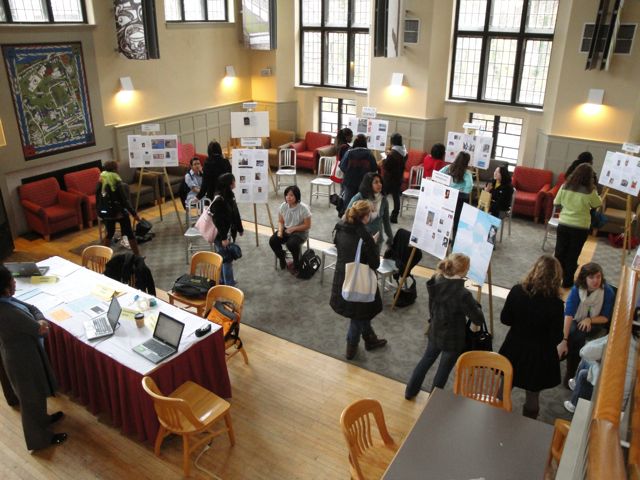 Preparing briefings for the U.S. Mission to the United Nations, sequencing and analyzing DNA, and digging into a transportation archive for evidence of a community's response to the loss of a light rail line are among the many tasks Bryn Mawr students undertook during internships last summer.
Students can learn more about how to find and fund interesting and rewarding internships at an information session this Tuesday, Dec. 1, at 6 p.m. in Thomas 224.
Learn more about finding and funding summer internships
"Internships provide an opportunity for students to apply their academic learning to real-world problems, to explore aspects of the world that are new to them, to develop new skills, to learn about specific agencies or careers, and to make contacts that may be helpful for their future careers," says Katharine Houghton Hepburn Center Director Leslie Rescorla, who organized the event along with Director of Internships and Research Grants Isabelle Barker, Civic Engagment Office Director Ellie Esmond, and Associate Director of Career Development Michaile Rainey.
Examples of the opportunities available to Bryn Mawr students were on display at a mid-November Internship Fair. Presentations were given by 33 of the more than 160 Bryn Mawr students who received funding for internships or research in community-service, arts, health, education, science, and advocacy organizations last summer. Participants talked with more than 70 students, as well as a number of faculty and staff members, who stopped by to look at their posters and hear about their experiences.
Yang Gao '10, who presented a report on her 10-week internship at the genomics lab at New York's American Museum of Natural History, was enthusiastic about the experience. While working on a project that investigated a shorter version of a bioidentification tool called DNA barcoding, Gao said, she learned DNA extraction, amplification, and sequencing, as well as sequence analysis.
"I also had exposure to working in a large lab and giving a big presentation in front of a large group of people," she added. Perhaps equally exciting was the opportunity to meet "cool and famous curators at the AMNH." The project was part of Bryn Mawr's Undergraduate Summer Science Fellowship Program, funded in part by the Howard Hughes Medical Institute.
Jennifer Pierre '11 also had a brush with fame during her Alumnae Regional Scholars internship at the U.S. Mission to the United Nations, where she worked on issues directly related to "the headline-making stories of the day" and had contact with U.N. Secretary-General Ban Ki-moon.
Pierre said that she was able to put her French to good use by translating several important documents. Her duties included taking notes at high-level meetings and helping to prepare briefings for the U.S. Ambassador to the United Nations and the U.S. Special Ambassador for Special Political Affairs.
The internship "was a priceless steppingstone into a career in international affairs," said Pierre. "I was able to hone my strengths, but also discover my weaknesses." She returned to Bryn Mawr with a fresh sense of purpose and a clearer understanding of how to achieve her goals.
Several of the presenters at the fair discussed self-directed research projects, such as those funded by the Hanna Holborn Gray Undergraduate Research Program. Senior Growth and Structure of Cities major Rachel Corey '10 used HHG funding to lay the groundwork for her senior thesis on community participation in public-transportation planning in Boston.
Corey had a longstanding interest in Boston's public-transit system, she said. But the Hanna Holborn Gray grant gave her the time and resources to frame a research question—on the transit authority's response to a community's dissatisfaction with the rerouting of an elevated rail line—and refine it on the basis of documents she discovered through original research. "I could take the time to let my research guide me instead of feeling like I was in a time crunch and that I needed to get a topic and stick with it," Corey said.
Comments Off

on Internship Fair, Information Session Present Opportunities to Students