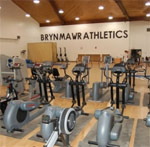 The $7.5 million dollar renovation of Bern Schwartz Gymnasium, dubbed the Smart Women, Strong Women initiative, will soon be in full swing, and as of Monday, Nov. 23, the fitness center will be closed. The pool will be closed for all recreational swimming Friday, Dec. 4, at 2 p.m.
The former Rhoads Hall dining space will serve as a temporary fitness center and will open for students, faculty and staff on Monday, Nov. 30, at 7 a.m.
Rhoads will have a variety of cardiovascular machines, including treadmills, elliptical trainers, ergs and an upright and a recumbent bicycle. Strength equipment will include a full complement of dumbbells, weighted bars, leg-press machine, lat pull-down and functional trainer machine. Stretching mats and bands will also be available. There are no changing areas or shower facilities.
Hours of Operation for the Rhoads Fitness Center:
For Bryn Mawr Students:
Monday-Thursday. 7 a.m.-10 p.m.
Friday 7 a.m.-8 p.m.
Saturday 10 a.m.-6 p.m.
Sunday 10 a.m.- 8 p.m.
For Faculty and Staff:
Monday- Friday 7 a.m.-1:30 pm
From 11 a.m-2 p.m. and 4-7 p.m. on Tuesday, Nov. 17, an open house and moving sale will be held at Schwartz Gym, where the community can view the schematic drawings and plans for the renovation, learn more about the options for new strength and cardiovascular equipment, complete a survey about equipment options and programming changes, and purchase selected fitness equipment and Bryn Mawr athletic gear. The sale will continue through Nov. 19.
The Smart Women, Strong Women initiative seeks to ensure that students have a state-of-the-art, attractively designed, and fully equipped facility where they can engage in a wide range of sports and fitness programs. Highlights of the renovation include the construction of a large glass atrium to be built around the current entrance that will reach into and open up the second-floor fitness area; equipment upgrades and additions including state-of-the art cardio and strength equipment; new office spaces for physical-education faculty and coaches; and a revamped pool and locker rooms.
For more details about the renovation, see this earlier story from Bryn Mawr Now.
The Athletics Department will soon be announcing the launch of the Smart Women, Strong Women Web site, where the community can track the progress of the renovation, get the latest news on the project, make a contribution, and more.
Comments Off

on Bern Schwartz Gym to Close for Renovation Nov. 23, Temporary Fitness Center to be Set Up in Rhoads Hall