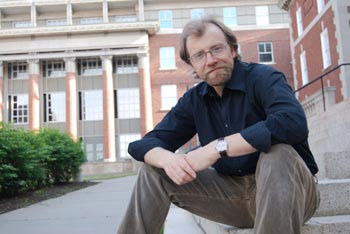 MacArthur "genius" fellow and frequent New Yorker contributor George Saunders will read from his work at 7:30 p.m. on Monday, Nov. 9, in  Ely Room at the Wyndham Alumnae House as part of the College's 2009-10 Creative Writing Program Reading Series.
The Creative Writing Program's Reading Series is free and open to the public.
Best known for his satirical and often absurdly humorous fictional short stories, Saunders is a four-time National Magazine Award winner. In addition to The New Yorker, Saunders' work regularly appears in Harper's , McSweeney's, and GQ.
His short story collection, In Persuasion Nation, was a finalist for the 2007 The Story Prize. His other books and collections include CivilWarLand in Bad Decline, Pastoralia, The Very Persistent Gappers of Frip, and The Brief and Frightening Reign of Phil.
His latest book, 2007's The Braindead Megaphone, was called "a Mark Twain-syle shot in the arm for Americans, an antidote to the dumbing-down virus plaguing our country," by Vanity Fair.
Comments Off

on Award-Winning Satirist George Saunders to Read