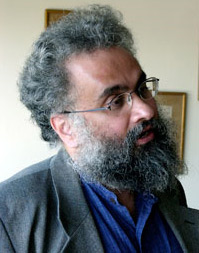 UCLA Professor Sanjay Subrahmanyam, a noted scholar of the history of South Asia, the Indian Ocean, and European expansion, will hold the 2009 Mary Flexner Lectureship at Bryn Mawr. The Flexner Lectureship, presented by the Bryn Mawr College President's Office, has been the proving ground for some of the most influential texts published in the humanities since its inception in 1928.
The events associated with the lectureship will include Subrahmanyam's series of three lectures, to be delivered on the first three Mondays of November, as well as a variety of related film screenings, lectures, and workshops for faculty and students. Many offerings are open to the public.
Courtly Encounters: Shaping Muslim, Hindu, and Christian Group Perceptions
Subrahmanyam's Flexner Lectures will focus on the crucial role 16th- and 17th-century Eurasian "courtly encounters" played in shaping Muslim, Hindu and Christian group perceptions of one another and the historical influence and modern-day ramifications of those perceptions. "Many view history as clashes between cultures, but initial encounters among these groups did not take place between societies or cultural systems as such, but between particular sub-cultures or segments of societies," says Subrahmanyam. His lecture titles and topics are as follows:
Courtly Competition between 'Muslim' and 'Hindu' States in 16th-century South Asia
Monday, Nov. 2, 5 p.m.
Courtliness, Conversion and Martyrdom in the Indian Ocean World
Monday, Nov. 9, 5 p.m.
Translating the Mughal Court: Visual Representations by Europeans
Monday, Nov. 16, 5 p.m.
Lectures are free and open to the public and will be followed by public receptions on the Bryn Mawr campus, in Thomas Great Hall.
When taken together, says Subrahmanyam, "these lectures will provide a broad-ranging reflection on the worlds of early modern Islam, Counter-Reformation Catholicism, Protestantism and a newly emergent Hindu sphere. I will argue that debates on a variety of matters and concepts of pressing interest for the contemporary world—including secularism and cosmopolitanism—can be illuminated by turning to this earlier phase of interactions and conflicts."
About 2009 Flexner Lecturer Sanjay Subrahmanyam
Having published more than 10 books, Subrahmanyam is a prolific, well-regarded scholar. He is also an accomplished teacher. He taught economic history and comparative economic development at the Delhi School of Economics from 1983 to 1995, when he moved to Paris as directeur d'études in the Ecole des Hautes Etudes en Sciences Sociales. In 2002, Subrahmanyam moved to Oxford as the first holder of the newly created Chair in Indian History and Culture. In 2004, he became the Navin and Pratima Doshi Chair in Indian History at ULCA. A year later, in 2005, he became founding Director of UCLA's Center for India and South Asia. Subrahmanyam's vast contributions to the humanities were recognized when he was elected a 2009 fellow of the American Academy of Arts and Sciences.
About the Mary Flexner Lectureship
The Mary Flexner Lectureship is Bryn Mawr College's most prestigious lectureship. Today, it is offered in partnership with Harvard University Press. According to Bryn Mawr College President Jane McAuliffe, "Our collaborative purpose is to present the scholarship of leading humanists to Bryn Mawr faculty and students, and to the broader academic community." Of the Lectureship, President Jane McAuliffe said, "The Mary Flexner Lectureship celebrates Bryn Mawr's legacy as a college that draws prominent faculty-scholars to its campus for collaborative interdisciplinary conversation that can ignite research and deepen our collective understanding of core humanistic concerns."
Comments Off

on Flexner Lectureship Brings Scholar to Discuss Early Encounters Among Muslim, Hindu, and Christian Elites