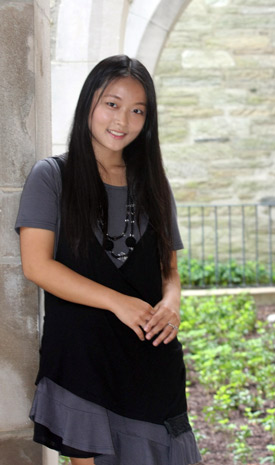 As a student prepares for her first semester in college, there are many demands on her time: travel arrangements and packing, course selection and seemingly endless paperwork, farewells to friends and family, and correspondence with new roommates. For Ying Pan '13 of Guangzhou, China, there were all those—and the interview requests.
Pan is the inventor of a device that senses changes in an amputee's residual limb and adjusts the socket that attaches a prosthetic accordingly, thus ameliorating a major source of pain and impairment. The design won one of two "First Awards" sponsored by the American Intellectual Property Law Association at the Intel International Science and Engineering Fair (ISEF) last May. As the top winner from China's delegation to the ISEF, Pan was featured in more than 20 stories in 10 Chinese newspapers and on Hunan TV. She declined an interview request from Hong Kong's TVB because of scheduling problems.
Her winning entry was the latest version of a project Pan started during her sophomore year in high school. As she pursued the necessary research, developed her ideas, and acquired the materials for her prototype, she encountered a variety of obstacles. According to Pan, the journey was definitely worth the trouble. Among the many things it taught her is that she has a talent for that kind of work.
"Before I started this research, I didn't know I was good at science," she says. "But the project gave me a lot of confidence."
By her senior year in high school, her interest in science and engineering played a major role in her education planning. She chose Bryn Mawr, she says, because "It is famous for nurturing women scientists."
"And the campus is so beautiful!" she adds.
Pan became interested in prosthetic-limb design through a series of incidental encounters with amputees. As a young child, she lived in a relatively poor neighborhood with a significant population of older people, where she sometimes saw amputees with makeshift prostheses constructed from whatever material was available—she remembers seeing a few made out of barrels.
In junior high school, Pan explains, "I was in a school surrounded by many hospitals. Sometimes I would take shortcuts through the hospitals to go home after school and I could usually catch sight of some amputees."
But the idea of designing a better-fitting prosthesis socket came from a conversation she had with a friend's uncle, who managed a factory. An amputee had come to his factory to suggest that he produce pads to ease the pain suffered by amputees at the site where a prosthesis connects. The manufacturer rejected the suggestion because he thought the market insufficient to make such an investment profitable. Pan, however, saw a meaningful opportunity in the amputee's suggestion.
Her first task, she realized, was to determine what caused the pain that had prompted the amputee's visit to the factory manager.
Solving this puzzle required more than hitting the books; Pan also needed to interview amputees. She telephoned many hospitals and rehabilitation centers before finding one that agreed to let her conduct research there.
Pan eventually pinpointed the cause of the problem: changes in the volume and shape of the residual limb weaken the seal between the stump and the suction cup that holds a prosthesis in place, resulting in chafing, abrasion, and sores. Such changes are especially problematic for children and teenagers whose bodies are still growing, but they often occur seasonally in adults as well.
Her inspiration for a better suction cup, Pan says, came from her father's blood-pressure meter, which "can detect the pulse of a blood vessel."
Pan's device is a two-layer socket. The inside layer, which has contact with the skin, is filled with a silicone gel that regulates the temperature of the socket and conforms to the shape of the residual limb. The outer layer is full of air; a sensor similar to the one in her father's blood-pressure meter detects the tightness of the fit between socket and stump by measuring the pressure of the air in the outer layer. It inflates or deflates the air cushion to keep the fit secure but not painfully tight.
Pan holds a Chinese patent for the apparatus and has applied for a second patent to cover improvements to her initial design. It will have to undergo a process of medical testing before it can be manufactured.
In the meantime, Pan is settling into the life of a U.S. college student and exploring new academic challenges. In addition to a writing workshop for non-native speakers of English, she is taking courses in physics, economics, and the Growth and Structure of Cities Program. She doesn't especially miss the media spotlight.
"Every student at Bryn Mawr is so special," she says. "They have their own personality, their own style, and they are free to do whatever they want within the confines of the Honor Code. I feel so comfortable on this campus."

Comments Off

on After a Summer in the Chinese Media Spotlight, Inventor Ying Pan '13 Settles Into Life at Bryn Mawr