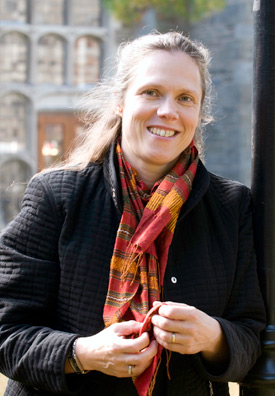 The Society for Human Ecology has bestowed its Gerald Young International Book Award on Brussels: Perspectives on a European Capital, a book co-edited by Associate Professor of Growth and Structure of Cities Carola Hein and Beligan architect/planner Pierre Laconte.
The award letter cites a nominator's commendation of the book for effectively bringing together "a group of political, administrative planning, and architectural leaders to discuss the way in which Brussels has emerged from its historic and cultural heritage to become a dynamic forward looking city." It goes on to praise the book for the way it looks at "human ecology at different scales … it shows how the human ecology of a city is driven by a great variety of factor … this is a penetrating analysis that makes a notable contribution to human ecology."
"Brussels has been an important focus of my work" says Hein. "This book is one of a very small number of English-language introductions to the urban history of Brussels and to the European question." It features large and colorful images—including historical views of the city and a variety of urban plans—many of which have rarely been published. "It is further exceptional," Hein says, "for providing a glimpse into current planning initiatives laid out by the person in charge, for bringing together academic writers and acting politicians, and as a place where leaders of the European Commission and the Brussels-Capital Region government promised to collaborate on the design of the city of Brussels."
Hein notes: "This work is emblematic of the direction in which my research is moving, from an already-interdisciplinary practice to including perspectives beyond traditional academics." This approach in her research also plays out in both of her current research projects, one on the global architecture of oil for which the John Simon Guggenheim Memorial Foundation awarded her a fellowship, and the other on Hamburg, port cities and networks, sponsored by the Humboldt Foundation.
This award is just one in a long series of prestigious awards and grants given to Hein. Her article on the career of the globetrotting French urban and regional planner Maurice Rotival won the International Planning History Society's biennial prize for the best paper on planning history published in 2002 and 2003. Several organizations, among them the Brussels Capital Region, contributed funding to the research on polycentrism and networking that led to her 2004 monograph, The Capital of Europe, her edited book European Brussels: Whose Capital? Whose City?, published in 2006, and now her prize-winning co-edited book Brussels: Perspectives on a European Capital.
Comments Off

on Cities Professor's Innovative Book Honored