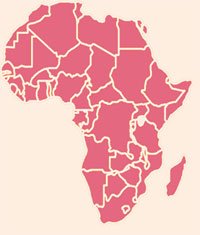 Main Line School Night, a local adult-education program, will continue its successful partnership with Bryn Mawr's faculty as it offers a series of six lectures on the Bryn Mawr campus this fall. "Scholarly Perspectives on Africa" features talks by four Bryn Mawr professors, as well as one Haverford and one Swarthmore scholar, on topics ranging from history and the social sciences to film and literature.
The series, to take place in the recently renovated Dalton 300 on Tuesday nights from 7 to 8:30 p.m., begins on Sept. 22. It is open to the public at a cost of $25 per lecture or $125 for the series of six. Students, faculty, and staff of Bryn Mawr, Haverford, and Swarthmore Colleges may attend the lectures free of charge. On the calendar:
Sept. 22: Kalala Ngalamulume, Associate Professor of History and Africana Studies: "The Second Scramble for Africa and the Congo Crisis." Ngalamulume's research focuses on the medical and social history of Senegal in the 19th and 20th centuries. His current research compares the French experience of disease and sanitation in Senegal to the British experience in Ghana.
Sept. 29: Professor of Anthropology Philip Kilbride: "Street Children in Today's World: In Search of a Childhood." Kilbride's field research in East Africa has focused on family studies, childhood, and social change. Most recently his research and teaching include the Irish Diaspora, especially the Irish living in Kenya.
Oct. 6: Professor of Sociology Mary Osirim: "Enterprising Women: Gender, Microbusiness, and Globalization in Zimbabwe." Osirim's work has focused on gender and development, race and ethnic relations, immigration, the family, and economic sociology in Sub-Saharan Africa, the English-speaking Caribbean, and the United States.
Oct. 20: Haverford College Professor of French and Francophone Studies Memoir and Africa Koffi Anyinefa: "The Peace Corps Memoir and Africa." Anyinefa specializes in Francophone Studies. He offers a survey of Francophone literatures, courses on French and Francophone cinema, and advanced special topic courses. He has strong interests in French and German colonial literatures.
Oct. 27: Professor of Political Science Michael Allen: "Orthodoxies Overturned: Judging Economic Strategies in Africa by their Values and Beneficiaries." Allen's teaching centers upon international studies. His research and publications have focused on the international political economy of African and Caribbean regions, and the challenges of governance at national and multilateral institutional levels.
Nov. 3: Swarthmore College Associaate Professor of French Carina Yervasi: "Contemporary West African Cinema." Yervasi specializes in French and Francophone film. She has published on African film comedies, cinematic representations of Jeanne d'Arc, and urban space. She teaches French-language classes, 19th- and 20th-century French novels, postcolonial cinema, and the French New Wave.
Tri-College students, faculty, and staff who wish to attend the lectures should be prepared to show Tri-Co ID. The general public may register on the Main Line School Night Web site.
Comments Off

on Tri-Co Faculty Members, Main Line School Night Offer Series of Lectures on Africa