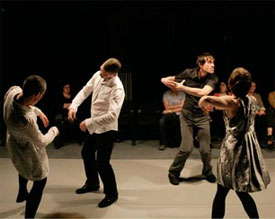 The Bryn Mawr College Performing Arts Series will partner with New York's Baryshnikov Arts Center to present the first Philadelphia-area performances by Australian dance group Lucy Guerin Inc. on Friday and Saturday, Sept. 25 and 26, at 8 and 10 p.m. in Thomas Great Hall.
Internationally renowned for the skill and audacity of its performers, Lucy Guerin Inc. is committed to challenging and extending the art of contemporary dance. In keeping with its dedication to innovative choreographic concepts, the group will be performing Corridor in an unconventional space.
Seated in two rows facing each other in Bryn Mawr's stately Thomas Great Hall, the audience forms a long corridor, effectively becoming part of the set. The dancers respond to a continuous stream of instructions delivered through media including iPods, telephones, spoken word, and written text, and the relationship between movement and language is examined as their bodies transmit and receive information. Each viewer has his or her own unique perspective of the work, with the performers seen at very close range, or at a distance as they move up and down the corridor.
The Bryn Mawr presentation of Corridor will be its second staging in the United States following a premiere run at New York's Baryshnikov Arts Center. Support for the Bryn Mawr performances comes from the New England Foundation for the Arts.
Established in 2002 to produce new work by choreographer Lucy Guerin, the group won the 2008 Australian Dance Award for Outstanding Performance by a Company and has drawn enthusiastic audiences in such venues as the Sydney Opera House, the Dublin Dance Festival, Dance Theater Workshop in New York, and on tour in the US and throughout Europe and Asia.
Susan Yung wrote in Dance Magazine: "Her choreography fascinates on many levels, from the most intricate gesture to grandly dramatic themes." And the Sydney Morning Herald called the company "A must-see for anyone interested in contemporary dance."
Corridor, like each Lucy Guerin Inc. production, is an intimate, stimulating experience. The company is dedicated the exploration and redefinition of everyday events and emotions. This choreographic exploration offers revelations and nuances of feeling that could not be generated or communicated in any art form other than dance. Typical productions make use of elements including industrial design, video, sound, voice, and text that complement Guerin's lucid, up-to-the-minute choreography.
The presentation of Corridor at Bryn Mawr is part of the New Theater and Dance from Australia in Philadelphia series, which includes Chunky Move and Back to Back Theatre at the Live Arts Festival.
The 2009-10 season marks the 25th anniversary of the Bryn Mawr College Performing Arts Series and will feature the return of historic Goodhart Theater, which recently underwent a yearlong, $19 million dollar renovation. Now with a greatly expanded stage, a visual facelift, and all-new lighting and sound equipment, the venue brings together Gothic Revivial architecture and modern technology to make it among the most beautiful spaces for performing arts in the Philadelphia area.
Tickets to individual events in the Performing Arts Series are $18 for the general public, $15 for seniors, $10 for students and Dance Pass holders, $5 for children 12 and under, and free for Bryn Mawr, Haverford, and Swarthmore College students, faculty, and staff. Subscription packages offer discounts, mix-and-match ticket flexibility and priority seating. For tickets and full season information, call the Office for the Arts at 610-526-5210 or visit http://www.brynmawr.edu/calendar/performing_arts.shtml.
Comments Off

on Performing Arts Series Opens With Corridor by Australian Dance Troupe Lucy Guerin Inc.