The 380 incoming students who arrived on Bryn Mawr's campus on Wednesday, Aug. 26, joined generations of young women who have come from all over the world each year to gather in Goodhart Hall after an arduous morning of hauling and unpacking luggage. But the newly arrived Class of 2013 is "the most international" yet, said President Jane McAuliffe. Twenty-eight foreign countries contributed 21 percent of the incoming class.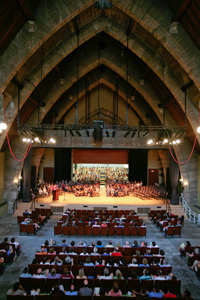 Dean of Admissions and Financial Aid Jenny Rickard also noted that California, for the first time this year, tied New Jersey as the home of more incoming students than any other state in the Union.
Students of color from the United States make up a record 35 percent of the class. Almost a fifth of the class consists of students who belong to the first generation of their families to attend a four-year college, a figure consistent with Bryn Mawr's top-five ranking in socioeconomic diversity among liberal-arts colleges in the United States.
McAuliffe welcomed the new class, along with 11 transfers, five McBride Scholars (students of nontraditional age), and families and friends of the new students, as the first audience to assemble in the newly renovated Goodhart Hall.
The landmark 1928 building, which serves as the anchor of the College's performing-arts programs, recently underwent a $19 million overhaul that included the replacement of antiquated utility systems, the expansion of the main stage, and the addition of an intimate performance space for teaching and small audiences.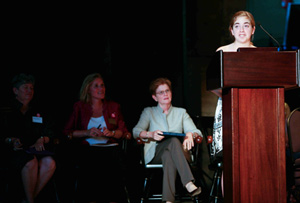 McAuliffe and Rickard were joined on the dais by Dean of the Undergraduate College Karen Tidmarsh; the president was introduced by Rebecca Miller '10. Miller is co-chair of the Customs Committee, which marshals 65 sophomore Customspeople in a five-day, dorm-based welcome and orientation for the new students known as Customs Week. Customspeople continue to serve as mentors and advisers to their first-year hallmates throughout the academic year.
"This is certainly the most international class Bryn Mawr has ever welcomed, and we have long been an international academic institution," McAuliffe said, after reading a list of the 28 countries that contributed students to the new class.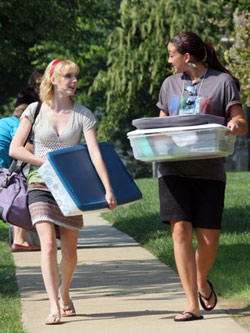 Congratulating both the students and their families on their achievement in being selected to attend Bryn Mawr, McAuliffe noted that in Bryn Mawr, they had "chosen a college with a distinguished history of graduate and undergraduate education and a practice of turning out strong, independent women who have blazed trails in many, many fields.
"Alumnae include the first women presidents of Harvard and the University of Chicago, the founding director of the Congressional Budget Office, a Nobel Peace Prize laureate, seven winners of MacArthur so-called 'genius' awards, pioneers in the treatment of breast cancer and the development of nanotechnology, the woman who is known as the leading screen legend of the 20th century—that'll be on the quiz— founders of banks and founders of rural medical clinics," the president continued.
"And I know that you will follow in these footsteps," McAuliffe predicted, "and a future president of Bryn Mawr will one day be referring to you as she proudly lists alumnae accomplishments."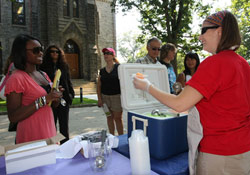 The president then offered the new scholars some advice: "The greatest gift that you can give yourself in these first months at Bryn Mawr is a spirit of utter openness … it's a bit like, I think, the idea of being open to falling in love. You simply cannot predict when a person or an idea or a whole academic field will seize you with the force of a lifelong passion."
Rickard then entertained the crowd with a tongue-in-cheek list of "important facts" about the new class that she claimed were identified by "a very sophisticated software tool." Rickard's list of facts began with "You are all very smart and very impressive women" and ended with the names of two students who celebrated their birthdays on Aug. 26. She led the audience in a rendition of "Happy Birthday" before turning the podium over to Tidmarsh.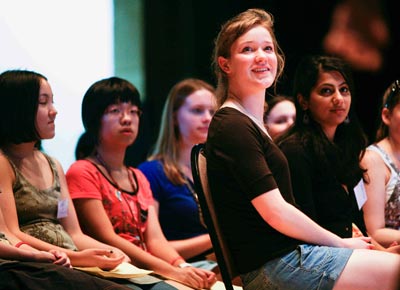 "There are only two days in your whole college career in which this many of you and your families are together—this one, the beginning of it all, and commencement," Tidmarsh began. "They are both exciting and happy occasions for Bryn Mawr … But while for us these occasions are very pleasant, we know that they are much more complicated for all of you. We, after all, have not been packing and unloading cars for the past several hours, or in some cases, days."
"We are also saying hello, which is much easier than saying good-bye, as you are, even temporarily," she continued. "You are beginning a new phase of your lives—whether as students or parents or siblings or aunts or guardians—and that's exciting but never easy. For one thing, you always leave a lot behind. In your cases, good friends, family, good teachers, faithful dogs, cats, horses, and parrots—all of which we really do hope you've left," she quipped.
She reassured the audience that the new students would soon be more comfortable in their new surroundings—"Not, I hope, too comfortable, though."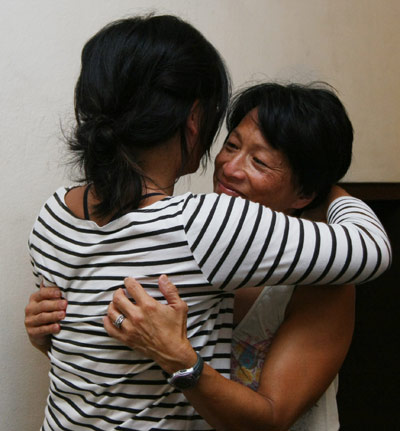 Tidmarsh explained that Bryn Mawr's curriculum and system of student self-governance offer students an unusual degree of control over their lives—and a series of sometimes-difficult choices. The Dean's Office, she noted, offers students guidance and advice where it is needed, with the aim of fostering independence and allowing students to "run their own lives."
"Making your own decisions is the only way to begin to function independently and confidently in a very complicated world," she averred. "We would like to see you running families and businesses and research centers and countries a few years from now."
Customs Week ends Monday, Aug. 31, with the first day of classes. The entire campus community is invited to gather for Fall Convocation in Thomas Great Hall at 4:15 p.m. on Monday.
See more pictures of Move-in Day in this photo album on the Bryn Mawr College Facebook page (membership in Facebook not necessary).
Comments Off

on Bryn Mawr Welcomes its Most Diverse Class Ever