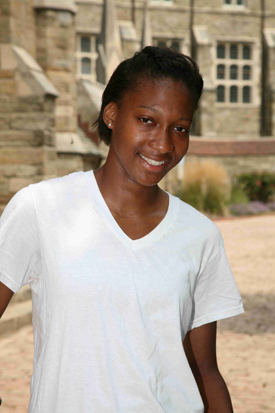 When she was growing up in Abidjan, Côte d'Ivoire, Akua Nyame-Mensah '10 often traveled to neighboring Ghana to visit her relatives. Although she loved seeing her family, Nyame-Mensah says, "I complained about the underdeveloped infrastructure."
Why, she wondered, did Côte d'Ivoire have more and better roads than Ghana did? Why did access to running water and electricity seem so much more challenging in Ghana's capital city of Accra than in Abidjan?
As a major in Bryn Mawr's Growth and Structure of Cities Program and a student in the combined 3-2 master's program the College sponsors with the University of Pennsylvania's Department of City and Regional Planning, Nyame-Mensah has learned a great deal about issues that affect urban development. This summer, the last before she writes her senior thesis, she used a grant from the Hanna Holborn Gray Undergraduate Research Program in the Humanities and Humanistic Social Sciences to find answers to some of the questions that had puzzled her since childhood.
The HHG grant funded Nyame-Mensah's study of planning regulation in Ghana's capital city of Accra through several neighborhood-development case studies; that research will serve as the basis of her thesis. She documented the project (along with her trip to the Netherlands for a conference of the international youth-run THIMUN Youth Network  and a few posts about soccer) on her Bryn Mawr blog, Twenty-Ten.
Before she set off for the summer in Accra, Nyame-Mensah and her 13 fellow HHG scholars prepared for their independent research projects at a two-day seminar featuring experienced researchers on the Bryn Mawr faculty, including Provost Kimberly Cassidy, who is a professor of psychology. The students met with their project advisers and with librarians who specialize in the fields relevant to their research topics.
"Because of the seminars I had a much better idea of how to go about asking questions and generating a thesis," Nyame-Mensah says.
The seminars were led by Sarah Scheckter, a graduate student in clinical psychology, and Lesley Shipley, a graduate student in the history of art. The graduate-student mentors remained available through the summer to offer their junior colleagues advice and guidance. They used a blog (open only to the HHG scholars) to stay in contact with the young scholars and to make it easier for them to share problems, observations, and research strategies with each other.
Nyame-Mensah set off for Ghana on June 8 and arrived late in the evening of June 9. Staying with her father, who now lives in Accra, she experienced her first Ghanaian rainy season and the attendant frustrations proceeding from an infrastructure chronically ill-equipped to deal with the seasonal floods.
To her delight, however, she found communications technologies both advanced and accessible in Ghana.
"The water may not always run through the pipes and the roads may not all be paved but at least I can get fast internet," she wrote on Twenty Ten. "Interesting how internet/phone infrastructure is much better than the infrastructure needed to get around and get essential utilities."
Nyame-Mensah, who participated in Bryn Mawr's Summer Multimedia Development Institute (SMDI) in 2007, is enthusiastic about the possibilities of electronic communications technologies in planning and urban development. Building on the groundwork she had laid in the SMDI program, she spent the summer of 2008 as a Katharine Houghton Hepburn Intern, working with the Historical Society of Pennsylvania's PhilaPlace Project, researching how to construct a three-dimensional rendering of South Philadelphia's Italian Market neighborhood on the basis of historical images and maps in the Historical Society's collection.
"I think that communications technology plays an important role in planning and development," Nyame-Mensah explains. "It can help you visualize what is there and help you plan/ model for what you want."
Much of her summer in Accra, however, was spent on old-fashioned legwork: neighborhood visits and interviews with planners, city officials, and individuals who hoped to develop land in the city.
Nyame-Mensah found a complex patchwork of regulatory schemes that posed significant obstacles, not only to developing land, but to buying land to develop in the first place. She realized that her initial research question about how one goes about buying and developing land in Accra was really two questions, one about buying and another about getting permission to develop.
"The process of obtaining land in Accra involves multiple ministries, agencies, and sometimes numerous owners of the same land," Nyame-Mensah wrote in her blog. "The next step would be then to go about finding out how to get consent to build on the land."
One complaint she consistently heard from her interview subjects was that enforcement of planning regulations was both lax and uneven.
"No one wants to deal with squatters that inhabit land in both informal shanty structures and other forms of more permanent shelter until there is interest in that land for development," she noted in her blog. Unplanned and sometimes dangerous structures are tolerated until someone acquires both the capital and the state approval to develop the land in a more formal way, and then people end up being displaced from their homes.
Further investigation revealed new complexities within this problem too, Nyame-Mensah said. After an interview with a former planning director of Accra, she realized that the unevenness in enforcement has numerous causes, among them the difference between government-regulated land and "stool" lands, or those held by traditional leaders on behalf of their people.
"There was a law enacted in 2008 that combines a lot of the government departments dealing with land," Nyame-Mensah said. "This new department, known as the Lands Commission, will include a survey and mapping, land-registration and land-valuation division. Though the Town and Country Planning office is not part of this consolidation, the Ghanaian government is currently working on upgrading planning legislation. The process of obtaining land must be reformed even before deciding what can be done with it."
Nyame-Mensah, a the co-captain of Bryn Mawr's soccer team, has now returned to Bryn Mawr for preseason training, with a wealth of research findings. She acknowledges that she's not quite as enthusiastic about "writing up" her thesis as she was about conducting the fieldwork for it, but the presentation she'll give in November along with the other HHG scholars may help her organize her thoughts.
Comments Off

on Childhood Questions Prompt a Cities Major's Summer Research in Ghana