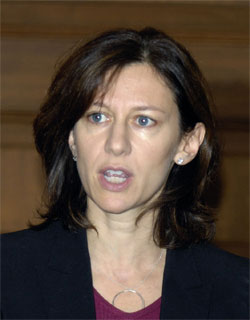 President Barack Obama has asked Karen Kornbluh '84 to serve as the United States' permanent representative to the Organisation for Economic Cooperation and Development, the White House announced yesterday.
The OECD's mission is to bring together governments of countries committed to democracy and the market economy to "compare policy experiences, seek answers to common problems, identify good practice and coordinate domestic and international policies" on economic-development issues.
Kornbluh, who majored in economics and English at Bryn Mawr before earning a master's degree in public administration from the John F. Kennedy School of Government at Harvard University, joined then-Sen. Obama's staff as policy director during his freshman term in 2005 and was hailed by CNN in 2008 as "Obama's brain."  She had established a reputation as an innovative thinker at the centrist think tank the New America Foundation, where she founded the Workforce and Family Program.
Before joining the New America Foundation, Kornbluh served in the Clinton Administration. As assistant chief of the Federal Communications Commission's International Bureau, she helped negotiate the World Trade Organization Agreement on Basic Telecommunications; she later became deputy chief of staff to Treasury Secretary Robert Rubin. In the early 1990s, she was an aide to U.S. Sen. John Kerry on the staff of the Commerce Committee and its Telecommunications Subcommittee.