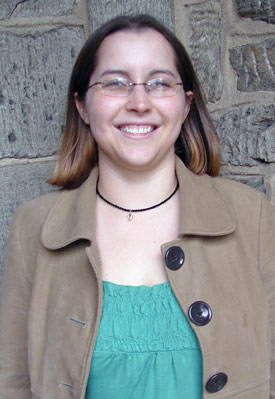 One day last month, Maureen Hoffmann was thrilled to learn that she had been selected for a prestigious Fulbright English Teaching Assistantship in Taiwan. Later the same day, she was informed that she had also been accepted into the Japan Exchange and Teaching program (JET), a language-teaching exchange sponsored by the Japanese government.
For Hoffmann, the decision between the two coveted positions represented a choice between deepening a childhood connection to one foreign nation and establishing an entirely new relationship with another. Oddly enough, Hoffmann has traveled to Asia on a Fulbright before — when, as a second-grader, she accompanied her law-professor father to Japan, where he served as a Fulbright scholar. That stay lasted four months; three years later, the family spent a year in Japan.
"It's always interesting to go someplace you've never been before," Hoffmann says, "But because I haven't returned to Japan since I was a child, the idea of living there again is very appealing. " Ultimately, she decided to accept the offer from JET.
A double major in anthropology (at Bryn Mawr) and linguistics (at Swarthmore), Hoffmann eventually plans graduate study to pursue her interest in endangered languages. She is at work on a senior thesis that examines sentence intonation in Lenape, a language spoken by the now-mostly-displaced indigenous population of what is now eastern Pennsylvania, New Jersey and southern New York.
"Unfortunately, the last known fluent native speaker of Lenape died in 2000, so I'm working mostly with field recordings  that were made in the late 1960s," Hoffmann explains. "Most of the Lenape people have moved to Oklahoma, although a small population remains in this area. One of the members of the Pennsylvania group has learned the language from tapes and documents and is now teaching it at Swarthmore."
Hoffmann's analysis uses computer technology that was prohibitively time-consuming and expensive at the time the recordings were made, she says.
"Now this technology is incredibly accessible. The program I use can be downloaded from the Internet for free."
She was introduced to Lenape last summer during an internship at the Smithsonian Institution's Natural History Museum in Washington, D.C., where she served as an assistant to curator and linguist Ives Goddard, who was studying the language. She and Goddard recently presented their findings at the Conference on Endangered Languages and Cultures of Native America in Salt Lake City.
The Smithsonian internship was her second museum placement: the summer after her first year at Bryn Mawr, Hoffmann worked at a science museum in her native Bloomington, IN. The next summer, she served as a research assistant to a linguistics professor at Indiana University.
"I loved working in museums," she said, "but I'm interested in doing field work as well as preserving existing documentation of endangered languages. Over spring break, I attended a conference on language conservation and preservation and the University of Hawaii, and I found the research presented there so exciting."
The theme of cultural preservation is remarkably consistent in Hoffmann's world. Her extracurricular focus at Bryn Mawr has been the Folk Club, which is dedicated to folk music and dance; she has enjoyed more than a reel or two with the Scottish Country Dance Club and has joined the local town-meets-gown group of Morris dancers, which performs in traditional costume at Bryn Mawr's annual May Day celebration. When she returns from Japan after her year of teaching there, some disappearing cultural traditions are likely to come with her.