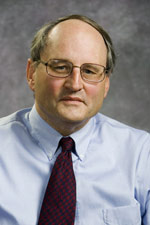 In the wake of Barack Obama's unprecedented use of information technology as a political organizing tool in the 2008 election, some observers have found reason to hope for a new age of digitally enhanced public participation in the political process. But can the hoped-for democratizing influence of the Internet compete with a powerful business lobby?
Political scientist Henry Brady will address the question in a lecture titled "The American Business Lobby, Citizen Power, and the Internet: Does the Little Guy Matter in American Politics?" on Thursday, March 26, at 4 p.m. in Room 119 of Dalton Hall.
"This is a particularly timely topic for students, faculty, and staff who are following the current goings-on on Wall Street and in Washington and are interested in who influences policymaking in the American political system," notes Associate Professor of Political Science Marissa Martino Golden, the chair of Bryn Mawr's Department of Political Science.
Brady, whose research focuses on political participation, the dynamics of public opinion and political campaigns, and the impact of computers on social-policy making, is a professor of political science who was recently appointed dean of the Goldman School of Public Policy at the University of California, Berkeley. He is president-elect of the American Political Science Association.