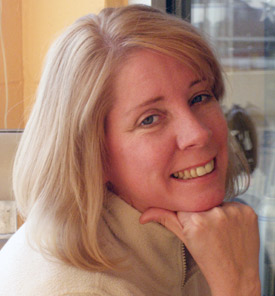 Historical researcher and fiction writer Virginia Ann Harris, whose coffeebreakreaders.com service is exploring new models of communication between author and reader, will speak on Tuesday, March 24, at 7:30 p.m., in the Ely Room of Bryn Mawr's Wyndham Alumnae House.
Harris will discuss her book The Privilege of Voting, a novel about dramatic events in the eight years leading up to the passage of the 19th Amendment in 1920. The book comprises a series of fast-paced, interconnected short narratives based on the lives of seven historical figures who were affected by women's struggle to gain the vote in the United States. It is available both in traditional paper form and as a series of episodes that are e-mailed to readers who register for the service.
The book focuses on activist Alice Paul, a graduate of Swarthmore College and the University of Pennsylvania. Paul, determined to achieve Susan B. Anthony's goal of passing an amendment to the U. S. Constitution guaranteeing women the privilege of voting, quickly made her mark with a series of high-profile events designed to convince incoming President Woodrow Wilson to support the suffrage cause.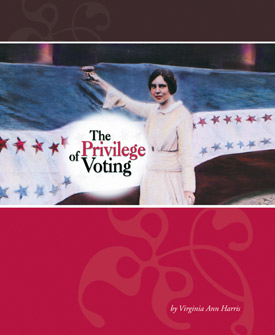 Many of her tactics were quite controversial and were strongly opposed by older suffragists, but she refused to be deterred from the path she thought would lead most quickly to the enfranchisement of all American women. She was arrested, jailed, and nearly committed to an insane asylum, but she kept up the fight.
The Privilege of Voting presents Paul's story along along with the stories of  Emmeline Pankhurst, two presidential mistresses, novelist Edith Wharton, dancer Isadora Duncan, Washington powerbroker Alice Roosevelt, and the author's own great-grandmother. Harris' appearance at Bryn Mawr is sponsored by the Katharine Houghton Hepburn Center, the Departments of Political Science and History, andthe Program in Gender and Sexuality Studies.