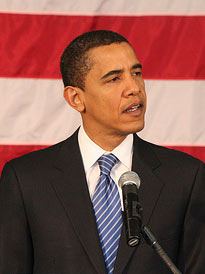 Apparently, one inauguration celebration per academic year isn't enough for the Bryn Mawr College community. On Tuesday, Jan. 20, recently inaugurated Bryn Mawr President Jane McAuliffe will sponsor an all-day party in Thomas Great Hall to mark what she modestly characterizes as "the really big inauguration"—that is, the one that will install Barack Obama as the 44th president of the United States of America.
In true Bryn Mawr fashion, the party will be accompanied by opportunities for intellectual growth: during the afternoon, three discussions led by faculty and staff members will focus on topics concerning the historic nature of the election or challenges that the new administration will be facing.
The party in the Great Hall will take place from 9:45 a.m. to 4 p.m. (with overflow space for viewing in the Campus Center, if the crowd in Thomas exceeds capacity). The inauguration ceremony and parade will be broadcast on a jumbo screen, and snacks will be available throughout the day. The ceremony will be taped and rebroadcast at 7 p.m. in the Campus Center for those who will be in class during the late morning or otherwise unable to attend.
The discussion sessions will be held in the London Room in Thomas during the afternoon. On the agenda:
1-2 p.m. Opportunities and Challenges of Confronting Race with an Obama Presidency. Facilitated by Chris MacDonald-Dennis, Assistant Dean and Director of Intercultural Affairs
2:30-3:30 p.m. Presidential Power (what power Obama has, in what ways he will need Congressional cooperation, etc.). Facilitated by Marissa Golden and Carol Hager, Associate Professors of Political Science
4-5 p.m. The Recession and Fiscal Crisis. Facilitated by David Ross, Associate Professor of Economics, and Sanford Schram, Visiting Professor of Social Work and Social Research