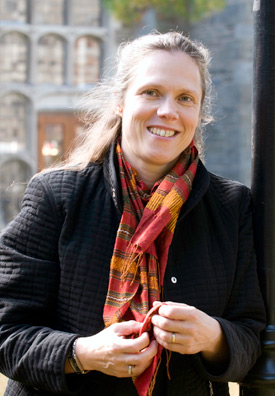 The German port city of Hamburg has a history of reinventing itself, says Associate Professor Carola Hein of the Growth and Structure of Cities Program. A major redevelopment project focused on the city's historic warehouse district continues that tradition, but it also shares characteristics with waterfront-redevelopment projects in Baltimore, London, Rotterdam, and Sydney, among others.
How much of Hamburg's transformation constitutes a local response to local needs, and how much does it owe to the influence of international developments in urban planning that have revitalized waterfronts and ports? Over the next two years, Hein will investigate these questions with the aid of a 2008 grant from the Alexander von Humboldt Foundation.
The Humboldt Foundation's Research Fellowship for Experienced Researchers funds up to 18 months of study in Germany for foreign scholars and scientists who are selected solely on the basis of their academic records, irrespective of academic discipline or country of origin. Hein is dividing 17 months of research into three extended visits to Hamburg, to take place over three summers and the fall semester of the 2010-11 academic year. She completed the first leg of her research trip last summer, just before this semester began.
Hein's research on Hamburg and the larger theme of port cities and international connections was recently highlighted through the well-attended international and interdisciplinary two-day conference, Port Cities and Networking, that she organized with Bryn Mawr and Haverford College colleagues.
According to Hein, a growing body of research about the relationship of globalization and urban form has discussed primarily the role of government in the global transmission of ideas, "but does not analyze the exchange of architectural and urban form along economic networks." Existing research, Hein says, also focuses almost exclusively on world capitals and national population centers. Cities like Hamburg–"second cities" that have successfully capitalized on the unification of Europe over the last two decades to promote themselves as destinations for both business and tourism–represent an important aspect of urbanism that has been largely ignored.
Hamburg, with its ongoing, extensive renewal project and its well-documented history of transformation, is an ideal lens through which to examine the interplay between global and local forces in urban planning. Hein plans to publish her research in a book that will first look closely at Hamburg's current planning project and then situate it in both a global and a historical context.
"The city presents its redevelopment project as a model of collaboration between private and public forces in the creation of what they argue is an exceptionally multifunctional and democratically designed new piece of the city," Hein says. Through archival sources and interviews with both public and private decision-makers, she plans to analyze the current plans and how they were developed, to see whether they are as innovative as their proponents claim.
"Certainly, Hamburg isn't blindly following the lead of earlier waterfront-development projects," Hein notes. "For instance, planners are trying very hard to integrate the new development with the rest of the city," she says, contrasting Hamburg to cities that have transformed historic port districts into glittering tourist traps while other parts of their urban landscapes languished in postindustrial decline.
International and local concerns both have roles, and precedents, in Hamburg's redevelopment, Hein says: "Hamburg has a long history of local transformation and innovation; it also has far-flung trading and political networks … Hamburg has traditionally been run by merchants with global connections, who also held the main political positions and facilitated the emergence of new architectural and urban concepts. While urban form largely developed in response to local needs, Hamburg's leaders have always taken into account international concepts and borrowed or transformed them if necessary to supplement their local developments."