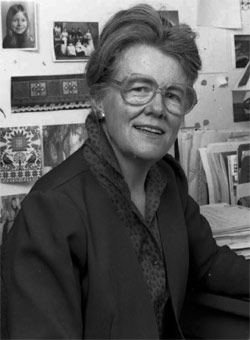 Feminist and antiracist activist Peggy McIntosh, the founder and co-director of the National SEED (Seeking Educational Equity and Diversity) Project on Inclusive Curriculum at the Wellesley Centers for Women, will offer three workshops at Bryn Mawr on Tuesday, Nov. 18, before giving a talk in Thomas Great Hall at 7:30 p.m.
McIntosh is best known for her exploration of the role that group privilege—as opposed to the bigotry of individuals—in perpetuating social inequality. In her famous essay "White Privilege and Male Privilege: A Personal Account of Coming to See Correspondences through Work in Women's Studies," McIntosh recalls her frustration with male colleagues who were unable to recognize the "unearned advantages" their maleness gave them. Realizing that she has similarly found it difficult to recognize the advantages her race conferred on her, she begins to look for such advantages, ultimately enumerating and recording a long list.
"I was taught to recognize racism only in individual acts of meanness by members of my group, never in invisible systems conferring unsought racial dominance on my group from birth," McIntosh writes.
All of the events are free and open to the public. The schedule for the day:
Workshop: The Intersection of Gender & Education, 9-10 a.m., Dalton 119
Lunch: Maintaining Balance and Focus: A "How We Keep Doing the Work" Discussion, noon-1 p.m., Dorothy Vernon Room, Haffner (please RSVP to Vanessa Christman, x6529 or vchristm@brynmawr.edu, by Monday, Nov. 17)
Workshop: Intersection of Race & Class, 3-4 p.m., Gateway Conference Room
Lecture: "Coming to See Privilege Systems: The Surprising Journey," 7:30 p.m., Thomas Great Hall. Reception to follow.
The programs are sponsored by The Office of Intercultural Affairs, in conjunction with the Teaching and Learning Initiative and the Community Diversity Assistants.