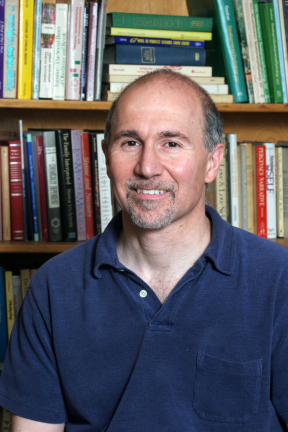 What effect do food stamps have on the long-term health and economic success of their recipients?
It's a difficult question to answer because so many variables besides food stamps contribute to health and economic outcomes. But Professor of Social Work and Social Research Thomas P. Vartanian has created a research model that compares several types of statistical analyses to present a more accurate picture of the effects of food stamps in the long term. The Economic Research Service of the U.S. Department of Agriculture (USDA), which oversees the food-stamp program, has awarded Vartanian a grant of $110,000 to put that model to use.
Last year, Vartanian received a $40,000 grant from the USDA to examine the long-run economic effects of food-stamp participation on young parents.
A major focus of the study will be the interplay between food-stamp recipients' immediate environments — that is, the characteristics of the neighborhoods where they live — and how well the food-stamp program works. He will compare siblings who have differing neighborhood conditions during their nonoverlapping years during childhood. In this way, he is better able to control for family-background differences better than previous studies have.
Over the next two years, Vartanian, with the assistance of GSSWSR doctoral student Linda Houser and undergraduate economics major Marie Guldin '10, will use the grant to analyze data from the Panel Study of Income Dynamics (PSID), a nationwide longitudinal study of income dynamics that was conducted between 1968 and 2005. They will merge the PSID data with U.S. Census data from 1970, 1980, 1990, and 2000, and data from a number of other sources.
The PSID data provide information about a nationally representative sample of thousands of individuals over 38 years, including indicators of general health, obesity, diabetes, and other health problems, as well as indicators of economic security and success. The census data provide information about the neighborhoods where those individuals lived, including rates of crime. The data allow Vartanian to follow children in the data from their early childhood years until they are well into adulthood.
Vartanian's working hypothesis is that "food stamps may be less beneficial to people who live in disadvantaged neighborhoods."
"First, those living in disadvantaged neighborhoods may have limited access to nutritional foods or higher food expenses because of the relative scarcity of large grocery stores within poorer areas," he notes. This may lead them to use their food stamps on less-nutritious food than those living in areas with more access to food choices.
High crime rates can play a role, as well, Vartanian says: "Children who live in high-crime areas may have fewer safe opportunities to exercise," he notes, "which may lead to less physical activity when they are young and ultimately lead to less physical activity as adults." The long-run consequences may be higher rates of obesity, which then lead to other associated health problems.