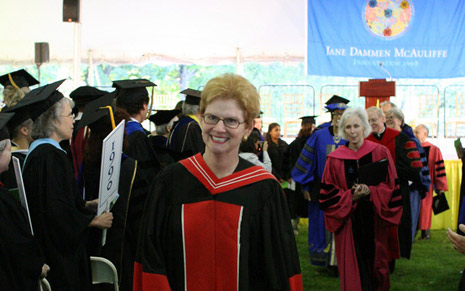 From the dance floor to the dais, optimism and high spirits were in evidence as delegates from more than 40 colleges and universities around the nation joined hundreds of members of the extended Bryn Mawr College community to celebrate the inauguration of Jane Dammen McAuliffe as the College's eighth president last weekend. At the inauguration ceremony, speakers challenged the College to increase women's access to education around the globe (download McAuliffe's inaugural address as a PDF).
The festivities began on the evening of Friday, Oct. 3, with a street fair featuring finger foods from Bryn Mawr Dining Services that visitors nibbled as they strolled a Senior Row festooned with lights and multicolored balloons. Alongside the vendors' tents, jugglers and musicians performed; a pair of salsa dancers led a line of revelers into Thomas Great Hall. There a series of performers taught the crowd a few moves in a variety of dance styles: first salsa, then swing, then bhangra, and finally hip-hop. The president took several turns on the floor, along with students, faculty, and staff members and their families, and more than a few of the College's trustees.
Two campus tours focusing on the College's history opened Saturday's events. In the late morning, six panels of faculty-student research teams discussed their projects. Following celebratory luncheons for delegates and alumnae, participants in the ceremony donned academic regalia for a formal procession into the tent on Merion Green where the inauguration took place. College and university delegates were joined by members of the Bryn Mawr faculty and senior administrative staff, as well as alumnae representatives of each Bryn Mawr undergraduate class since 1939 and both of the College's graduate schools.
The crowd was addressed by representatives of the faculty, the staff, the undergraduate student body, each of the graduate schools, the College's board of trustees, and the Bryn Mawr College Alumnae Association before hearing from the presidents of Haverford and Swarthmore Colleges; the University of Pennsylvania; Smith College; Trinity University, McAuliffe's undergraduate alma mater; and Georgetown University, where McAuliffe served as Dean of the College of Arts and Sciences before accepting her post at Bryn Mawr.
Featured speaker Johnnetta Betsch Cole, whose distinguished academic career includes the presidencies of two historically black women's colleges, delivered a rousing address titled "If You Educate a Woman." The title refers to a quotation from the African-American abolitionist Martin Delaney, who said, "If you educate a man, you educate a man. If you educate a woman, you educate a nation."
"When girls and women are granted the right and have the means to go to school," Cole argued, "many things that are good begin to happen, things that are good not only for them, but for their communities and their nations." After citing a list of the benefits of women's colleges over coeducational institutions to their students—including deeper student engagement, a higher graduation rate, an increased likelihood of earning advanced degrees, a higher rate of participation in mathematics and the sciences, and a higher lifetime earning potential—Cole added another benefit to the list.
It is, she said, "a benefit not only to the students of these special institutions, but a benefit to so many others. Graduates of women's colleges are twice as likely as graduates of coed institutions and universities to become more involved in philanthropic activity. How good it is when women give and give generously of their time, their talent, and their treasure in the interest of improving conditions in their communities, their country, and their world." Cole issued a challenge to Bryn Mawr and all women's colleges to demonstrate "a commitment to valuing diversity and promoting a culture of inclusion."
"How fortunate Bryn Mawr is to have in sister President Jane," she concluded, "an individual who has a longstanding commitment to … the notion that the best-educated and -prepared students are those who experience on campus the same multicultural world that lies beyond their campus … I offer my hearty congratulations and sisterly support as she accepts the awesome and joyous responsibility of leading an institution that must educate women well so that these women can educate and change their nation and the world."
Formally confirming McAuliffe's election to the presidency, Board Chair Sally Hoover Zeckhauser '64 presented McAuliffe with a volume containing the will and codicil of Bryn Mawr founder Joseph Taylor and the College's original charter as a symbol of office. As she accepted the book, audience members broke into "Anassa Kata," the Greek invocation of victory that is the College's traditional cheer.
In her inaugural address, McAuliffe recalled climbing a circular staircase that led her to the top of Taylor Tower. "From that vantage point, I felt the sweep of Bryn Mawr history and I saw its promise," she said. "This is a place to honor and to cherish. This is a place with a proud past now facing a future rich with possibility. Today, I'd like to begin a conversation about that future—to contemplate where Bryn Mawr, born in the nineteenth century, developed with distinction in the twentieth, might venture in the twenty-first."
To frame her disucssion, McAuliffe drew deep into the history of higher education, to curricular categories employed by medieval European universities. "The trivium," she explained, "embraced foundational skills and methods—grammar, dialectic, and rhetoric. Once mastered, they were the scaffolding, the support of a student's future studies. Those further studies were the quadrivium, the four-part curriculum that encompassed advanced learning."
"I'll use trivium to identify the fundamental values that define us as a women's college in the liberal-arts tradition, in other words, our core commitments and abiding concerns. These values—excellence, access, and agency—are the foundation for all of our aspirations," McAuliffe continued.
"Excellence was at the heart of the animating vision for Bryn Mawr, and it remains so," McAuliffe said. "Bryn Mawr stands in the top 10 of all colleges and universities in the number of its graduates who earn a Ph.D. In a recent analysis of names listed in Who's Who, Bryn Mawr ranked 14th of the best 225 universities and colleges in the proportion of graduates listed—the only women's college in the top 20."
"Access to excellence was the reason Bryn Mawr was born," the president noted. "From its earliest days, this College has sought to offer the most rigorous education to those who were otherwise excluded from the best undergraduate colleges and the most challenging graduate programs. With each successive generation, the College has expanded this originating mandate as it seeks to enroll the most qualified women from all parts of this country and throughout the world. A recent survey of highly selective liberal-arts colleges placed Bryn Mawr among the top five in terms of its socioeconomic diversity."
That access, McAuliffe said, results in a sense of personal agency: "We not only educate our graduates to become engaged citizens of the world but we as an institution act as a force for social justice and social change."
Having identified three core values of the College, McAuliffe adopted the framework of the quadrivium to enunciate four "points of challenge and opportunity": enhancing students' educational experience, fostering a strong and inclusive community, strengthening the Bi- and Tri-College relationships with Haverford and Swarthmore Colleges, and "embracing the adventure of global education."
Mcauliffe proposed "telepresence equipment, collaborative teaching, robust relationships with other institutions around the world, and international campuses" as "realms for us to explore" in expanding the College's global reach.
McAuliffe, a world-renowned scholar of Islamic studies, recalled a semester she spent as a graduate student at a Middle Eastern university 12 years ago.
"What came as a surprise was the reality of being a woman in that environment. I had to sit in the back of the room. I had to huddle with the few other female students and strain to hear the professor conversing almost exclusively with the male students in the front rows."
"Our world is ill-served by an asymmetry of educational access," the new president asserted. "We need all our best minds to solve the great needs of this planet: ending poverty, expanding health care, sustaining the environment. Here is where Bryn Mawr has the experience, the enthusiasm, and the heart to lead the way."
Photo: Ashley Madden '09