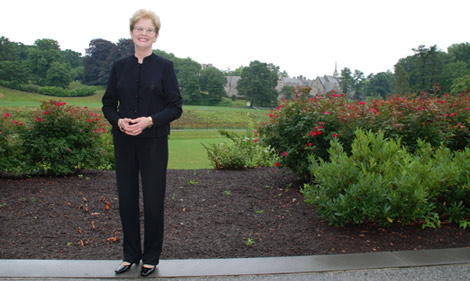 During her first weeks in office, President Jane Dammen McAuliffe has been "enchanted by the stunning beauty" of the Bryn Mawr campus. She has also acquired a familiarity with furnaces, boilers, and ductwork that is unusual in a chief executive.
As McAuliffe undertook a thorough walking tour of the buildings and grounds, her guides–Chief Administrative Officer Jerry Berenson, Facilities Services Director Glenn Smith, and Assistant Director of Facilities Harold Maryea–quickly learned that "every inch of the campus" included basements and attics.
The three men observed the new president's intense curiosity about the work of every staff member. They experienced it, too. Maryea is an expert in heating, ventilation, and air-conditioning systems, and McAuliffe spent about an hour a day in his company for nearly a month: thus the president gained a comprehensive understanding of the systems that control the College's interior environments and of the people who keep them running.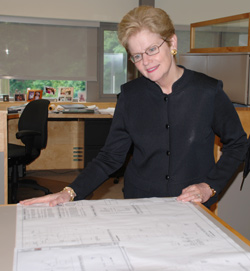 On most days, McAuliffe's tour culminated in a mid-morning meeting with a group of Bryn Mawr staff members. "I've met with the staff in small groups so that I could understand, person by person, what the function of each individual office was," she says. "I wanted to people the narrative that comes out of the reams of documentation that one receives as a candidate in a search. It was a very gracious effort on the part of staff units to host me," she says, noting that she probably ate more pastries than were strictly good for her.
"Occasionally I'd have so many questions that we wouldn't complete all the spaces that were allocated to that morning's tour," McAuliffe says. "I wanted to do it thoroughly."
Boilers and furnaces didn't obscure her view of the landscape.
"It was fabulous to have a chance to relish the architectural variety, the breathtaking beauty of the campus," she says. "I loved seeing it up close, getting a solid sense of the geography of the campus as a whole and of the individual buildings."
She was especially enamored of the architectural detail and diversity she saw in dorm rooms."There are wonderful rooms with nooks and crannies–they were so far from the typical boxy dorm room. There were rooms with window benches and little overlooks. And the fact that so many of our rooms are singles is in and of itself an extraordinary advantage for students."
Smith and Berenson provided a history of the "wonderful renovations" that were completed during the tenure of her predecessor, Nancy Vickers.
The buildings, McAuliffe says, "embody an attention to the quality of student life" that she encountered in the College's staff as well.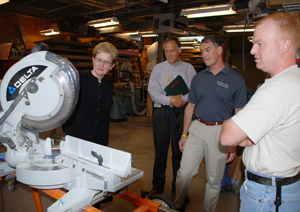 "The dedication of the staff was almost palpable," she says. "They care deeply about the institution and are eager to do the things that will help it move forward. But what emerged most clearly from these meetings was their obvious affection for the students and their commitment to ensuring that the overall student experience is a positive one. That was consistently articulated as a primary professional goal, and I saw many of the extra efforts staff members make to achieve it."
McAuliffe herself is enjoying the return of students to campus. When she entered Dalton to meet with students who are participating in the Tri-Co Summer Institute, she says, "It was so exciting finally to hear a hubbub of student voices." In the absence of the student population, "the place had seemed a little bit sedate."
A planned series of dessert meetings with students in each dorm will give her more exposure to individual students' voices, she says.
McAuliffe also plans to launch a yearlong series of faculty lunches this week. "The guest list for each lunch will be generated randomly because I'd like to mix faculty from different departments and from the several faculty ranks," the president says. "I look forward to getting to know individual members of the faculty through these lunches and, perhaps, to introducing some faculty members to colleagues whom they have not yet met."
With the help of the Alumnae Association, the new president is scheduling a series of receptions with alumnae/i in cities around the country.
McAuliffe's agenda for the first year of her presidency is "a full immersion in the institution." The process she undertook with the staff this summer will be repeated with students, faculty, alumnae/i, donors, and representatives of other institutions who have a stake in Bryn Mawr's future.
"Much of what I'll be doing is meeting with people, discussing what I'm learning about the College, and encouraging the renewed sense of attention that any leadership transition permits an institution. Out of that, I expect that the community's priorities for my tenure in office will emerge. The community voice expresses itself and clarifies itself in a process of leadership transition."
Photos by Amanda Cegielski '09