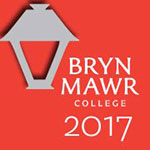 For the 2,700+ students who applied for admission to Bryn Mawr's Class of 2017, the wait is finally over as of 4 p.m. today. That's when decisions are posted online and applicants can find out if they have been accepted.
With the highest number of applicants in Bryn Mawr's history vying to join this year's incoming undergraduate class, competition for admission was unprecedented.
"We admitted 39 percent of those who applied, making this year the most selective in at least thirty years," says Dean of Admissions and Interim Dean of Enrollment Laurie Koehler. "The Class of 2017 will be among the most academically accomplished, diverse, and socially engaged classes in Bryn Mawr's history."
Koehler also noted the thoughtful, detailed responses and key themes the applicants provided in response to a required essay question asking students, "Why Bryn Mawr?"
Prospective students frequently cited the diversity of the College–racial, ethnic, international, religious, socioeconomic, and sexual orientation in particular–as a key reason they were interested in attending. In addition, some of the exciting curricular innovations were real draws, with many naming the 360° program, Emily Balch Seminars, new international studies major, and Praxis specifically in their responses. Finally, this year's applicants consistently noted the strong sense of community among students, staff, and faculty that they both witnessed and experienced first-hand when they visited campus.
Accepted students for the Class of 2017 come from 44 states and the District of Columbia. International students, who make up 22 percent of those accepted, come from 36 countries. China, India, South Korea, Vietnam, Taiwan, and Japan are the most well-represented countries. The diverse range of countries from which accepted students hail also includes Botswana, Uzbekistan, Turkey, Ghana, Brazil, Sri Lanka, Malawi, and Nepal.
Now that students have been notified of their decisions, it's the College's turn to play the waiting game. Accepted students have until May 1 to confirm their enrollment.
Comments Off

on Today's the Day For Bryn Mawr's Class of 2017