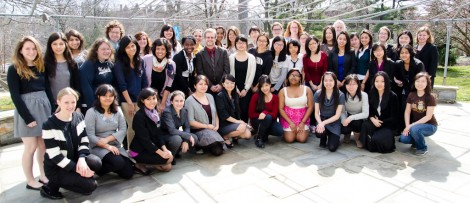 In talking to alumnae in the world of business and finance, as well as students interested in careers in those fields, Bryn Mawr Treasurer John Griffith often heard that what the College needed was some way to expose more students to the basic business concepts, lingo, and real-world "rules of the road" associated with business interviewing and networking to confidently pursue opportunities where their high-quality liberal-arts education is greatly valued.
"Whenever you talk to recruiters in finance, banking, or consulting, they say, 'We need bright people who understand the big picture and aren't afraid of working with numbers and analyzing data,'" says Griffith. "They know our students have the skills they need. I wanted to see if there was a way I could help more Bryn Mawr students realize that, too, and to not be intimidated by the idea of competing with someone from a business school."
In the spring of 2011, Griffith offered his first "Certificate in Finance" workshop over spring break.
The initial workshop was a success, and additional workshops were developed around entrepreneurship and management.
Earlier this month, 55 students spent spring break attending the second finance workshop, a one-week, intensive introduction to financial basics (bonds, cost of capital, capital structure, asset allocation, portfolio management, financial statement and ration analysis), the financial industry, public speaking and team-based case presentations.
The workshops were again led by Griffith and Meredith Myers of the University of Pennsylvania's Wharton School. Featured speakers included Ken Kitkowski, a director in investment banking at Bank of America Merrill Lynch; Ali Dorf, a managing director at Cambridge Associates; Jeanette Davidson-Flowers, senior managing consultant at Public Financial Management; and Anna Papalia, who serves as a life and career coach and is the founder of Shift Philadelphia.
"The first finance program was a big success, but we've made a few adjustments with each workshop and now I think we've really hit our stride in terms of offering students the information that's going to be most useful to them should they want to pursue a career in any of these fields," says Griffith.
Major changes to the finance workshop included expanding it from four to five days and the inclusion of a young alumnae panel.
One constant and a highlight at all the workshops has been the participation of Bryn Mawr alumnae.
"The underrepresentation of women in business and finance is a powerful unifying call to action for alumnae," says Griffith. "All the professional women I meet recognize this as a serious issue and are willing to help Bryn Mawr students."
Every day during the workshops, students have lunch with a Bryn Mawr alumna working in the field being covered. Once the meal is finished, the alumna speaks to the group and participates in a Q&A.
"The alums gave us solid advice on navigating our career and their confidence, strength, and poise was truly inspiring," wrote Malli Gupta '12 in an email when asked to give her impressions of the workshop.
Alumnae participating in this latest workshops included Jamie Higgins '98, vice president, Goldman Sachs; Meera Gilbert '90, principal, Meera Gilbert & Associates, LLC; and Dana Niblack '93 managing director, Perella Weinberg Partners.
Nancy Rooney '92 managing director and head of Northeast investment business for JP Morgan Private Wealth Management, participated in the workshop for the first time.
In talking to the students at lunch on Wednesday, Rooney praised them for taking part in the workshop.
"You don't have to have a business degree but you do need to make sure there's something on your resume—be it these workshops, clubs, an internship, or a volunteer activity—that shows an employer that you're truly interested in the field in which you're applying for a job," Rooney told the students.
Later during her discussion with students, Rooney urged them to "be known for your work ethic," and credited much of her professional success to the education she received at Bryn Mawr.
"I knew I could learn the lingo of business," she said. "When I left Bryn Mawr, I was confident in my thoughts and my ability to take a complicated subject and break it down into its key components. To this day, I'm very proud of having gone to Bryn Mawr."
Rooney and Gilbert, who attended lunch on Tuesday, both advised the students that no matter what career they pursued the best thing they could do when starting out was to first "take ownership" of their job search.
This was Gilbert's third time speaking to students at one of these workshops.
"I am so excited about this program," says Gilbert. "I can see the change taking place in the students, and it is very exciting. The students who had participated in the Management Program stood out in the group this time around. What John and Meredith are doing is invaluable to the students."
Students interested in attending future workshops should contact David Holland in the Treasurer's Office.
Comments Off

on Workshop Features Mix of Classroom Experience and Advice from Alumnae Who Have Found Success in Finance