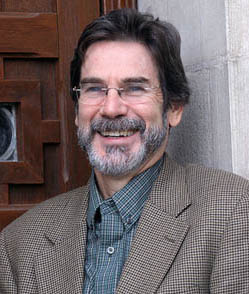 Professor and William R. Kenan Jr. Chair in the Department of Classical and Near Eastern Archaeology James Wright, Ph.D. '78, has been appointed to a five-year term as the director of the American School of Classical Studies at Athens, beginning in July 2012.
Wright, whose research focuses on the pre- and protohistory of the Aegean region and Greek architecture and urbanism, "has a long and deep connection to Greece, the land, its people, and its cultural heritage," notes American School. "He is a fluent speaker of Greek, and has conducted archaeological research in Greece since 1973, at the American School's excavations at Ancient Corinth, the Sanctuary of Zeus at Nemea, Kommos on Crete, and since 1981 has been the Director of the Nemea Valley Archaeological Project. His association with the American School began in 1972-1973 as a Regular Member, and he also served as the Secretary of the School from 1975 to 1977."
More on Jim Wright and Bryn Mawr's Relationship to ASCSA
"My appointment as director continues a longstanding, mutually beneficial relationship between Bryn Mawr and the American School," says Wright. "Bryn Mawr alumnae have a long history of playing major roles in many of the School's excavations and in the management of the School, and the department continues to send a steady stream of graduate students to the School for training." As the School's director, Wright will follow in the footsteps of legendary Bryn Mawr archaeologist Rhys Carpenter, who established the school's scholarly journal, Hesperia, during his directorship of 1927-32.
An alumnus of Haverford College, Wright earned his M.A. and Ph.D. At Bryn Mawr. As a member of the Bryn Mawr faculty, he has served as chair of the Department of Classical and Near Eastern Archaeology, acting director of the Growth and Structure of Cities Department, and dean of the Graduate School of Arts and Sciences. He chairs the board of trustees of Philadelphia's Friends Central School and serves as a member of the corporation of Haverford College.
Long a champion of the preservation of cultural heritage, Wright has established a reputation as a principled advocate of international controls on the sale of cultural property.
"We are extremely pleased that Jim will be serving as the director of the school," says Robert A. McCabe, the president of the American School's board of trustees. "He is an extraordinarily able person with a great love for all aspects of Greece and its people. We know he will continue the tradition of excellence that has characterized the School's Directors throughout its 130 year history."
Mary C. Sturgeon, Ph.D. '71, chair of the School's Managing Committee, concurs: "Jim Wright will bring to this position many years of active archaeological exploration in Greece, 30 years of teaching experience, and strong administrative skills. We are confident that Jim will have a firm hand in guiding the American School through the opportunities and challenges of the next five years."
Comments Off

on Bryn Mawr's James Wright Appointed Director of American School of Classical Studies at Athens