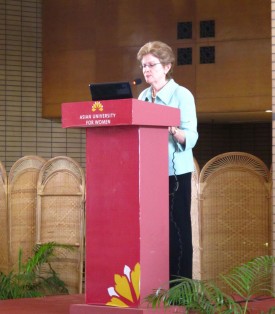 A June 5 article on the Asian University for Women in The Chronicle of Higher Education quotes Bryn Mawr President Jane McAuliffe. The article also features a quote from AUW founder Kamal Ahmed praising Bryn Mawr for its support of the fledgling university. AUW was founded on the belief that education—especially higher education—provides a critical pathway to leadership development, economic progress, and social and political equality.
The article is password protected, but here's an excerpt of the Bryn Mawr mention…
"Despite the commitment of people like Ms. Blair, the university has had trouble attracting academics and administrators, with a revolving door of top officials as it opened. 'You know we are a start-up in a developing country,' explains Mr. Ahmed. 'We don't have the resources or systems in place as that of old venerable institutions. Originally our hope was that women's colleges in the U.S. would be helpful, but other than Bryn Mawr College, not a single women's college has supported us.' Bryn Mawr and the Rockefeller Foundation paid for the university's second annual symposium, in Dhaka in January.
"Jane D. McAuliffe, president of Bryn Mawr College, who attended the event, says she wants to work with the new university because she sees parallels between it and her institution. 'There's a real desire to instill in students the importance of becoming change agents in their own societies,' Ms. McAuliffe says, 'and that's exactly what we do at Bryn Mawr.'"
President McAuliffe was joined at the conference by a number of Bryn Mawr faculty and students. Read about their experience in this Bryn Mawr Now article.
Comments Off

on Article on Asian University for Women Notes Bryn Mawr's Support, Quotes BMC President