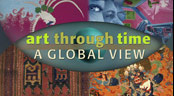 History of Art Professor Lisa Saltzman is among the distinguished academics interviewed for WNET's ambitious 13-part documentary Art Through Time: A Global View.
Saltzman's voice introduces the third episode of the series, History and Memory. She first appears on camera at around the 3:30 mark in the video.
Art Through Time: A Global View examines themes connecting works of art created around the world in different eras. The thirteen-part series explores diverse cultural perspectives on shared human experiences. WNET is the premier public media provider of the New York City metropolitan area and parent company of public television stations THIRTEEN and WLIW21.
Comments Off

on History of Art Professor Lisa Saltzman featured in WNET's Art Through Time: A Global View