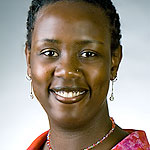 Wanjiru Kamau-Rutenberg, the founder of the Akili Dada scholarship fund for Kenyan girls, will speak at a fundraising gala sponsored by Project Educate in Africa this Friday, April 22, in Thomas Great Hall. The event will also feature party music, catering by a local African restaurant, and a silent auction of unique hand-made craft items from around the world.
Admission to the fundraiser is free and open to the public. Donations will be accepted; proceeds will be used to sponsor the secondary education of a Kenyan girl through Akili Dada and toward building a secondary school in Africa.
Keynote speaker Kamau-Rutenberg is an assistant professor of politics in the College of Arts and Sciences at the University of San Francisco. Her research and teaching interests center on issues of gender, women's politics, ethnic politics, and human rights, and she is currently writing a book on the impact of ethnic politics on the struggle for women's-rights legislation in Kenya.
In 2005, Kamau-Rutenberg founded Akili Dada, an international organization that provides secondary school scholarships to bright young women from impoverished families, connects them to a growing network of peers and professional Kenyan women who serve as mentors, and offers them leadership training.