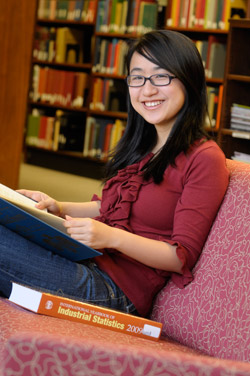 When Mandy (Menghan) Shen '10 looked for a community-service opportunity a few years ago, she was interested in tackling the problem of educational inequality between China's rural and urban populations. But volunteer programs that addressed the issue seemed to be few and far between—and barricaded with bureaucratic red tape.
So Shen gathered a few friends and founded her own program, after securing seed funding in the form of a Bryn Mawr summer-internship grant.
The Bryn Mawr Undergraduate Dean's Office funds 50-60 summer internships annually; additional funding opportunities are available through various centers and offices.
Shen's social-enterprise startup, the Peer Experience Exchange Rostrum, now has a three-year history of developing summer camps for disadvantaged secondary-school students in rural China. Volunteers—Chinese college students from top institutions around the world—lead intensive, three-week workshops that aim to develop critical thinking, independence, creativity, teamwork, and citizenship values.
The PEER workshops' curriculum includes small seminars; competitive, skill-building team activities; and student-initiated projects.
Growing up in Guangzhou, China, Shen had been aware that rural students were at a disadvantage relative to Han Chinese in urban areas. But her experience at  Bryn Mawr prompted her to think of that issue as a problem that China, and its citizens, should address.
"At Bryn Mawr, there is a real focus on addressing the needs of underserved communities," says Shen. Inspired by her fellow students, she now sees educational disparities as a hindrance to Chinese development as a whole. Shen thinks that many Chinese people of her generation share this concern; the surfeit of applications from aspiring PEER volunteers indicates that she is onto something.
According to Shen, a university education is seen as the key to success in China, but competition for admission to both Chinese and foreign universities is fierce, and chances of gaining admission to college are slim for students at underfunded rural schools.
Without access to higher education, young people tend to follow the paths of their parents—to low-paying factory jobs in the coastal cities.
But it isn't enough, Shen says, to help students get into college so that they can migrate to fast-developing urban centers on a firmer economic footing. PEER also aims to counteract strong cultural biases that favor those who live in cities and devalue rural populations. PEER workshops have increasingly focused on inspiring students' pride in and knowledge of their own communities.
"In most schools, urban life and Han Chinese identity are explicitly promoted as desirable," Shen says. "Often, students in rural areas know very little about their local economies and traditions, and they aren't encouraged to build or care about their own communities."
"The skills taught by a liberal-arts curriculum—critical thinking, self-knowledge, independent thought—are useful in any setting," Shen says. "Developing these skills can help rural students see that migrating to the city is not the only option. They can work to make their own communities stronger and find other ways to a better life."
PEER has expanded substantially since it offered its first summer camp at a single site in 2007. In 2009, the program marshaled 49 volunteers to work with 240 secondary-school students at three sites. By its third year, the program received 337 applications for its 49 spots. It also introduced a new long-term mentorship program that pairs volunteers with students. This year, PEER added a spring service-learning program for graduates of the summer program.
In addition to the grants Shen received from Bryn Mawr, PEER has been funded by the Chinese steel company Shanghai Shengbao. Shen's partners in founding the organization were Hong Liu, of Harvard University's Class of 2009, and Xiaosen Chen, of Peking University's Class of 2010. As she prepares for graduation from Bryn Mawr this spring, Shen remains committed to the program and plans to continue her work with it, but she is also training three Bryn Mawr students—Yichun Fu '13, Huipu Li '13, and Jiajie Lu '12—to help with the administration of the program.
Shen, a double major in economics and mathematics, plans to pursue a graduate degree at Harvard University's program in international-education policy. She hopes her research and fieldwork will eventually influence policy in her home country.  In the future, she wants to help more grassroots education organizations to build their capacities and better serve their targeted communities.
"That is where my passion lies," she says.
Comments Off

on Senior Mandy Shen's Nonprofit Brings Liberal-Arts Values to Rural High Schools in China