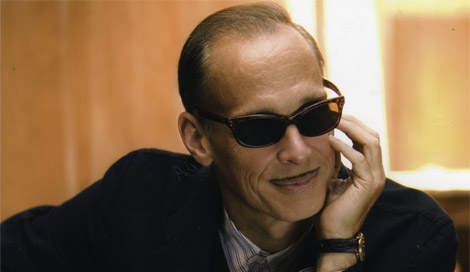 Legendary counterculture filmmaker John Waters brings his one-man show An Evening with John Waters: This Filthy World to Bryn Mawr College's Goodhart Theater on Friday, March 26, at 8 p.m. as part of Bryn Mawr College's Performing Arts Series.
Buying Tickets
Tickets to "This Filthy World" are $18, $15 for senior citizens, and free for Bryn Mawr, Haverford, and Swarthmore students, faculty, and staff. Tickets are $10 for students of other schools, and $5 for children 12 and under. Priority seating is available for $80 subscription packages ($65 packages for senior citizens). For more information and tickets, call the Office for the Arts at (610) 526-5210; tickets are also available online at brownpapertickets.com.
This Filthy World is Water's rapid-fire, one man, spoken-word "vaudeville" act that celebrates the film career and joyously appalling taste of the man William Burroughs once called "The Pope of trash."
Updated and expanded from the original film version, This Filthy World focuses on Waters' early artistic influences, his fascination with true crime, exploitation films, fashion lunacy, the extremes of the art world, Catholicism, sexual deviancy, and his love of reading.
Waters is famed the world over for his cult-movie classics, including Mondo Trasho, Pink Flamingos, and Polyester. He gained a wider audience with 1988's campy comedy Hairspray later adapted into a hugely successful Broadway musical that spawned 2007's Hairspray, one of the most successful musical motion pictures of all time.
Waters' more recent films include Cry-Baby, Serial Mom and Pecker.
In addition to directing, Waters is an actor and author. His latest book, Role Models, is due to be published in May.
Tickets to individual events in the Performing Arts Series are $18 for the general public, $15 for seniors, $10 for students, $5 for children 12 and under, and free for Bryn Mawr, Haverford, and Swarthmore College students, faculty, and staff. Online ticketing through www.brownpapertickets.com For phone orders and information, call the Office for the Arts at 610-526-5210
SPECIAL SCREENINGS: The Bryn Mawr Film Institute partners with the Performing Arts Series in screening two of Water's classics in advance of his Bryn Mawr appearance:
Hairspray on Wednesday, March 17, at 7:30 p.m. and Pink Flamingos, Saturday, March 20, at midnight.
###
Comments Off

on Filmmaker John Waters Brings "This Filthy World" to Goodhart Theater